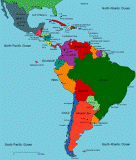 Welcome to the Carnival of Latin America and the Caribbean. If you would like your posts on the region added to next week's Carnival, please email me, faustaw2 "at" gmail "dot" com.
Today's big news: Ahmadinejad canceled his trip to Brazil, which was scheduled for Wednesday. He had been invited by Lula. No reason was given for the cancellation.
In other region news, businessman Ricard Martinelli won yesterday's election in Panama.
Hugo Chavez tear-gassed demonstrators last Friday.
The WHO has downgraded the Mexican flu. (details below)
LATIN AMERICA
Irans Strategic Penetration in Latin America
Via No Pasaran, The Declaration of Cumaná: Capitalism 'threatens life on the planet'
An in-depth report on South American humor
Latin American Economies: Pain but not panic
BRAZIL
AHMADINEJAD CANCELOU A VIAGEM APÓS OS PROTESTOS!
Protests from human rights, Jews, Christians, gay, and women's groups against Ahmadinejad's visit
Ahmadinejad Set to Visit Brazil as Iran Increases Influence in Latin, South America
COLOMBIA
Entrevista de Andres Oppenheimer con el Presidente Alvaro Uribe
COSTA RICA
Arias' brilliant response to anti-American leaders
CUBA
Ricardo Galván Cazal, Cuban Political Prisoner of the Week, 5/3/09
Convocada cacerolada en Cuba por el derecho a viajar de todos los cubanos
Comrade Fidel Celebrates May Day, Trashes Obama
Free Trade: Should the embargo on Cuba finally be lifted?
ECUADOR
Ecuador Revolution Wins with Correa
HAITI
Haiti Starts Over Again
MEXICO
Flu pandemic still likely but Mexico cases easing
Mexico reacts angrily to China flu measures
Barracks law: Crimes that go unpunished
PANAMA
Conservative Wins Election in Panama
PARAGUAY
The boy and the bishop: Paternity claims distract from a struggle for reform
Protests and Rubber Bullets Greet Return of Dictatorship Criminal
VENEZUELA
Brutal repression in Caracas for May 1st march
Chavez to Obama: The Thrill Is Gone
PDVSA zero coupon bond rumor: makes sense, but does it? (And two bits on the Central Bank and bonds)
Everything you ever wanted to know about April 11th and weren't afraid to ask
AMERICAN POLITICS
Arlen Specter, Castro's dupe
Special thanks to the Baron, Eneas, Maggie and SamK.