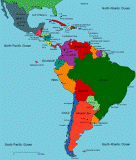 Welcome to the Carnival of Latin America and the Caribbean. If you would like your posts included in next week's Carnival please email me, faustaw2 "at" gmail "dot" com.
The Festivus theme comes from Seinfeld, of course, and I explain it in my Real Clear World post. In that spirit, here's the Carnival,
LATIN AMERICA
DEA: Law Enforcement Efforts Pushing Mexican Drug Cartels into Central America
Drug Enforcement Administration officials said there are growing signs the stepped-up law enforcement efforts on the U.S.-Mexico border are driving the cartels south toward Central America.
Presidentes del Alba firman acuerdo para materializar moneda común
Why American leadership still matters
Americas Summit: Missed Opportunity
Obama Proves Stupid is as Stupid Does
ARGENTINA
Che, the Musical
BOLIVIA
Bolivia's Evo Morales: Fasting and dealing.
A presidential hunger strike
A Plot to Kill Bolivia's Leftist President?
BRAZIL
Conexão Irã-Venezuela ameaça América Latina
Brazil and climate change
Dancing with the bear: A soya king's change of heart on the rainforest
COLOMBIA
The Bubbles Shrink
From Medellin, Hopeful Signs For A Free-Trade Pact
CUBA
Via Babalu, Capitol Hill Cubans, who list 50 Reasons Against Lifting Sanctions Towards Cuba's Regime
Castro Complains; Cubans Suffer As Usual
Now Open Cuba's Prisons: The Obama opening does little for Castro's political prisoners.
White House Embraces Opening for Talks With Cuba: White House Press Secretary Robert Gibbs says the administration was struck by Raul Castro's statement about Cuba potentially being "wrong" about avoiding talks with the U.S.
It takes two to rumba: Raúl Castro's reaction to a small American olive branch may be even more cautious than Barack Obama's offering of it
Don't expect big changes soon on U.S. Cuba policy
ECUADOR
Chávez le da vida a nueva moneda "Sucre" y Ecuador apoya su creación
Será "virtual" para el comercio subregional
Ecuador to Give Details of Plan for Defaulted Debt
Debt Proposal By Solvent Ecuador May Well Spawn Lawsuits
MEXICO
Counting Mexico's guns
Barack Obama way wrong on U.S. guns in Mexico–FactCheck.org
Drug control breeds gun control
Obama, the Mexican guns, and Latin America: blame the US first
PARAGUAY
Definitely not the messiah, he's a very naughty boy
PUERTO RICO
Transportation Worker Identification enforcement begins in USVI and Puerto Rico
VENEZUELA
Chavez's Banco del Tesoro is not much of a treasure
A Gauleiter first day on the job: Farias takes over Caracas
Chavez: Let's host the Sixth Summit in Havana
"HAMPONATO DE ESTADO" ARREMETE CONTRA LOS MÁS POBRES
Hugo and Barack: Two sides of the same coin
Note to the Apologizer-in-Chief: No, a Republic Is Not Equal to a Dictatorship
Chavez, upon returning from the Summit of the Americas, reviews Venezuela's new anti-aerial weaponry received from Russia (Video #1), and proclaims the Summit "one of Venezuela's greatest victories" (Video 2) , all to the Cuban Communist salute, "Homeland, socialism or death, we shall win!"
Video 1
Video 2
IMMIGRATION
Obama to Potential Illegals: Arrive Now, Get Legalized Later
kausfiles, the Golden, Assaultive Years!
LANGUAGE
The Spanish Tutorial Blog asked to be included in this Carnival, too.
UPDATE
Welcome, Dodgeblogium readers. Please visit often.
Check out my post at PoliGazette, Why Newt is right.