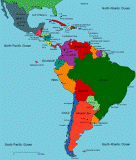 Welcome to the Carnival of Latin America and the Caribbean. If you would like your post included in next week's Carnival, please email me, faustaw2 "at" gmail "dot" com.
The region is preparing for the upcoming Summit of the Americas. However, today I would like to highlight a story from Bolivia, written by my friend Eneas Biglione of HACER: Bolivia: Padron biometrico, el AS bajo la manga de Evo Morales. The article explains how Smarmatic, the same manufacturer of the Venezuelan voting machines, is making biometric voting machines for the use of the Evo Morales regime. Considering how the Smartmatic system provides "an unknown number of calculations and processing supposedly for the purpose of gathering, transmitting and totalling the number of votes" which could not be audited by the country's Grupo de Seguimiento Tecnico for a number of reasons, including that the machines have removable memories, this does not bide well for Bolivia.
LATIN AMERICA
A Latin America game plan
ARGENTINA
Chagas disease
Kiss and kill: A deadly and neglected plague
BRASIL
Look to Brasilia, Not Beijing
The rising challenge to China's great power aspirations.
CUBA
Why Did Congressional Black Caucus Overlook Racism in Cuba?
Useful Idiots Caucus
Genuinely Castrophilic.
Castro: Obama's Implementing My Vision
Language alert: US Reps Meet with Fidel
Castro Tells Far Left Democrats That US Owes Cuba an Apology
Via TigerHawk, Geopolitical Diary: A New Phase in U.S.-Cuban Relations
Obama's Cuba policy announcement
EL SALVADOR
Risks of El Salvador's "Reform"
MEXICO
Water cut off in Mexican capital
Mexican Drug Cartels and Terrorists: Have They Really Teamed Up?
Congressman Warns Mexico More Dangerous than Iraq, Could Become Failed State
PERU
The trial of Alberto Fujimori
An elected strongman brought to book:
A victory for the rule of law
VENEZUELA
The "dictatorship" canard
Via Doug Ross, Venezuela: Rising Political Tensions
Venezuela's endangered democracy
Revolutionary justice: A crackdown on the opposition
Update note to those who still think that Venezuela is not under a dictatorship