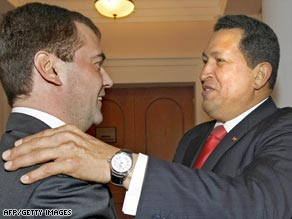 Money can buy you love, as Medvedev will tell you, just last year Hugo and Dimitri were BFFs. There even was talk of selling Russian subs to Venezuela.
Alas, love is not eternal.
My Real Clear World Blog colleague Yevgeny Bendersky posted today,
Until recently it was thought that the most likely buyer of these Russian "Kilo" submarines would be Venezuela, whose negotiations with the "Rosoboronexport" started in 2007. Back then, Venezuelan Navy announced that the country needed Russian subs to control its off-shore oil production regions. But gradually, talks with Venezuela got nowhere – the original order went form nine submarines to just six to just three or four. Yet the final nail in the coffin of this deal was hammered by none other but Hugo Chavez himself, who offered to shake US President Obama's hand at the April summit of the Organization of American States. Russians must have construed Chavez's behavior as reneging on his earlier pledges to arm his country against "American aggression" and the submarine contract with Venezuela was canceled in favor of Vietnam.
Was the Obama handshake that effective?
Or is it more of a "cash up front" issue?
After all, last year when Dimitri and Hugo were making plans, oil was at an all-time high of $140/barrel, while now it's down to under $50/barrel ($49.68 according to Bloomberg).
$5 says that money trumps ideology on this one.