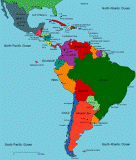 Welcome to the Carnival of Latin America and the Caribbean. If you would like your post included in next week's Carnival please email me, faustaw2 "at" gmail "dot" com.

I chose the "Who painted it?" theme for today's Carnival since it's yet another sign of the current administration's ignorance of the history and traditions of the region. "You have a marvelous virgin!" indeed.
LATIN AMERICA
Central America: An Emerging Role in the Drug Trade
The 'Axis of Lula' vs. the 'Axis of Hugo'
Nuclear Watchdog Inks South America Deals, U.S. Congress Should Scrutinize Closely
"New Eve" encounters her snakes?
Changes in Earnings in Brazil, Chile, and Mexico: Disentangling the Forces Behind Pro-Poor Change in Labor Markets
Commentary: Can fading Caribbean island-states thrive in the world of alternative energy?
Latin political calendar puts recovery at risk
Americas summit's draft declaration is hard to take seriously
Has the G-20 Learned the Lesson?
Politics and Democracy in Latin America – A Beginner's Guide
ARGENTINA
Argentina's election: The Kirchners make a dash for it, Hoping it's not the exit
BOLIVIA
Bolivia Military Makes Biggest Drug Bust in a Decade
BRAZIL
Lula knows he screwed up on Venezuela and Chavez
Via The Anchoress "Excommunication" in Brazil
Rogues Gallery – the PMDB Comes "Clean" at Last
Governors under fire: A rash of impeachment cases against state governors is probably a good sign
Brasil e Irán buscan relanzar comercio
COLOMBIA
FARC plot to kill Colombia defense minister foiled
A un año de la muerte del "faraon" de las FARC
Colombia's FARC Drops Condition For Hostage Negotiations
CUBA
Youth unemployment
Embargo stays but 'review' of bans is on
Ahhh..That Fiendish "Blockade!"
Rodolfo Barthelemy Cobas and Alejandro Jiménez Blanco, Cuban Political Prisoners of the Week, 3/29/09
ECUADOR
Correa Threatens Jail for Spreading Rumors on Ecuador Currency
Ecuador's Correa Rejects De-Dollarization; Warns On Rumors
Ecuador's Correa: Dolarization Stays
Correa Leads Ecuador Electoral Vote
EL SALVADOR
Obama curtails successful drug interdiction program in El Salvador
MEXICO
Another Blooper… Hillary Lays Flowers at Our Lady of Guadalupe Shrine Asks "Who Painted It?"
Washington continues to play ostrich about Mexico
A Mexican standoff with reality
LOWRY: The big truck turnaround
Teamsters prove borders can be policed, despite treaties
Mexico's Juarez surge is working so far
Via Instapundit, Obama targets flow of guns, profits from U.S. to Mexico
Via Instapundit, Drug cartels' new weaponry means war
Army desertions hurting Mexico's war on drugs
US to Boost Forces on Mexico Border
Green Holidays: EcoHotels In Yucatan, Mexico
Mexico's Dinosaurs Exploit the Crisis
A cautionary tale for those who see an opportunity to take over key elements of the economy.
Hezbollah uses Mexican drug routes into the US.
Hillary's Mexican Reality Check
John Kerry:
Mexico's war must be our war
Helping Mexico take on the drug cartels helps us, but the effort will require unprecedented cooperation between our two countries.
NICARAGUA
The Many Stories of Carlos Fernando Chamorro
PUERTO RICO
Jury clears Puerto Rico police in Marine's beating
Puerto Rico Gets a Little Richer With New Quarter from U.S. Mint
VENEZUELA
Tirofijo honored in Caracas
Venezuela's budget cuts
Hard landing: President Chávez's spending cuts will bite deeper than he admits
As expected swap market ground to a halt, here is why…
Venezuela to take over 30 fishing boats
Alí, meet Bernie. Bernie, Alí.
Venezuela Currency Trades in Parallel Market Slow on U.S. Probe
Special thanks to Ada, Dymphna and the Baron, Eneas, Larwyn, Maggie and SamK.
UPDATE
Don't miss also the best of me symphony
The week's posts and podcasts:
If you can call it "vindication"
Hezbollah using Mexican drug routes into the US
"We won't pay for their crisis"
Hiding the story with the headlines
More on Lula's "people with blue eyes"
Lula: "White people with blue eyes" created the financial crisis
Venezuelan Military Takes Control of Transportation Hubs
Clinton: US shares blame for Mexican drug war
Today's podcast at 11AM Eastern: Argentina Downgraded to Kazakhstan on Foreign Fund Restrictions
At Real Clear World
Lula's 'White People with Blue Eyes' Spices Up G20
Venezuelan Military Takes Control of Transportation Hubs