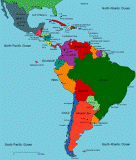 Welcome to the Carnival of Latin America and the Caribbean. If you would like your posts included in next week's Carnival please email me, faustaw2 "at" gmail "dot" com.
The big but not surprising news of the week is Mauricio Funes's electoral victory in El Salvador
Mauricio Funes, a former TV newsman who was recruited to run for president, declared himself the winner of El Salvador's presidential contest Sunday night, bringing into power a leftist party built by former guerrillas and ending two decades of conservative rule.

Funes, a dynamic speaker and political outsider who compares himself to President Obama and pledged to be an agent of change in the small Central American nation, was leading the polls late Sunday night with 51.2 percent of the vote and more than 90 percent of the ballots counted. Turnout was high and election day was mostly calm.

If the lead holds, Funes and the Farabundo Marti National Liberation Front (FMLN) will take control of a nation struggling with an economic crisis and a murder rate that is among the highest in the world. The country has also suffered through 12 years of civil war, which left more than 70,000 people dead.
He too promises hope and change (emphasis added):
"This is the happiest night of my life, and I want it to be the night of El Salvador's greatest hope," he said. "I want to thank all the people who voted for me and chose that path of hope and change."
In other news of the week, Lula went to Washington, a Russian Air Force chief raised the possibility that his country would have bombers in Venezuela and Cuba, and Nicolas Sarkozy concluded his trip to Mexico.
LATIN AMERICA
Washington Starts Another Trade War
Islamic terrorism in Latin America
BOLIVIA
TWO DEPUTY MINISTERS OF CULTURE TO "DECOLONIZE COUNTRY"
Bolivia: agresiones a la dignidad y a la propiedad privada
The justice of crowds: An outbreak of government paranoia
BRAZIL
Crazy man warns of eco disaster
Brazil leader takes regional clout to White House
Is Obama snubbing another foreign leader?
Soaps, sex and sociology: Do women who watch telenovelas have fewer babies (but more men)?
CHILE
Let them eat carbon
COLOMBIA
Civil Affairs in Colombia
CUBA
Cuban baseball slavery, now playing in San Diego
The Black Spring, six years later
ECUADOR
Meltdown response: Ecuador erects trade barriers
EL SALVADOR
A nation divided: Will a country still haunted by the cold war dare at last to embrace the left?
HAITI
Positivity: Austin doctors help Haitian boy with heart defect
MEXICO
Obama Decides to Try Smoot Hawley : It Looks Like Mexico Will Retaliate When Barack Obama Violates NAFTA
Obama: Troop move to Mexican border under consideration
A rather off-the-wall theory Destabilizing Mexico
The financial crisis hits Mexico:
PERU
Don't look back: Arguing over a museum of memory
VENEZUELA
Sunday's hypocrites: Magglio and Chavez
From war, to fighting Coca Cola, to Mac Chavez, the autocrat never ceases to amaze
Feeding Frenzy: statism on the run
Chávez Tells His Navy to Take Over Key Seaports