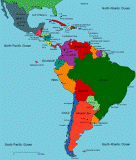 Welcome to the Carnival of Latin America and the Caribbean. If you would like your posts included in the next Carnival, please email me, faustaw2 "at" gmail "dot" com.
The big story of the week: Lula's trip to the US. Please scroll down to the Brazil section and watch/read Mary O'Grady's report. As she puts it, Brazil shouldn't count on Washington. This is a huge opportunity totally wasted by the administration in Washington.
Another big story: Former governor of Puerto Rico Aníbal Acevedo Vilá has been declared not guilty on all nine counts of corruption after a trial where the defense did not call any witnesses and 10 people indicted with Acevedo had plead guilty before the case went to court.
LATIN AMERICA
Chile, Cuba and Latin America: Courting Castro, with uncertain benefit
Organized Crime Is Increasingly Active in Film Piracy; Three Cases Link Terrorists to Piracy Profits
DRUG WARS
If you haven't read it yet, there's a must-read series at The Economist:
Dealing with drugs
On the trail of the traffickers : Illegal drugs are causing havoc across the world. Over four articles, we look at attempts to curb supply and cut demand, beginning in Mexico
The cocaine business
Sniffy customers: Drug-traffickers are expanding their operations in Europe, despite the best efforts of the police
Levels of prohibition: A toker's guide
Drug education: In America, lessons learned
But efforts to warn people off drugs are still too timid
ARGENTINA
Argentina Downgraded to Kazakhstan on Foreign Fund Restrictions
BRAZIL
Brazilian Companies Understand Reality Better Than Government: Corporates Bound to Create Derivatives Risk Alert Mechanism
Brazil's banks: Spread bets
A different sort of banker-bashing
Brazil shouldn't count on Washington
COLOMBIA
COLOMBIA: LEFTIST GUERRILLAS THREATEN, KILL CHRISTIANS
Pastors are issued warnings in north; evangelists murdered in southwest.
CUBA
Cuban musician reportedly arrested
Cubans starve on a diet of lies
EL SALVADOR
FMLN Wins in El Salvador: No Mandate for Revolutionary Change – by Ray Walser
El Salvador's presidential election: Left turn
The voters opt for "safe change"
WaPo editorial Victory in El Salvador: A presidential election produces a win for the left — and for liberal democracy.
If Mr. Funes as well as the election's losers now respect the rule of law, the result could be the consolidation of the political system the United States was aiming for when it intervened in El Salvador's civil war during the 1980s.
>That's a heck of a big "IF".
MEXICO
Don't Keep on Truckin'
Democrats profess to love our allies — unless they want to trade with us.
Anti-Drug Effort at Border Is Readied: Obama Plans to Send Agents, Equipment To Aid Mexican Fight
Via IBD Blog, Mexico drug lord on Forbes rich list with $1 billion
Via TigerHawk, Friday Photo: Mexico fights car theft, Sarah Palin-style
NICARAGUA
Iran's Push Into Nicaragua: Why Is No One Concerned?
U.S. warns Nicaragua over disputed elections
Nicaragua: Opponents say that Daniel Ortega has become richer thanks to Venezuelan funds
Land rights in Peru: Whose jungle is it?
VENEZUELA
Civil disobedience as an option for Venezuela.
Chavez unveiled a new economic plan:
Chavez's economic fart
Hugo Chavez announces very timid economic measures to confront drop in oil revenues
Parallel exchange market freaks out on fears Chávez is about to move on banks
Venezuelan government to expropriate 30 fishing boats
IAPA warns against Chavez's government increasing abuses against the media
LANGUAGE
Using Connecting Words In Spanish
Special thanks to Ada, the Baron, Eneas, Larwyn, Maggie, and SamK.