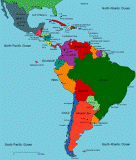 Welcome to the Carnival of Latin America and the Caribbean. If you would like your links added, please email me, faustaw2 "at" gmail "dot" com.
Don't miss this afternoon's podcast at 2PM. My guest will be Michael Moynihan.
LATIN AMERICA
The Stanford affair: An $8 billion scandal goes a long way
The allegation of an $8 billion fraud against Sir Allen Stanford is causing financial worries across the region, not least in Antigua, home to his main bank
Del "Informe Mattarollo" a la increible corrupcion en YPFB
Piracy of movies, songs thriving in Latin America
ARGENTINA
Argentine Creditors Said to Swap 3.5 Billion Pesos of Loans
BELIZE
New scholarship holders from Belize to study in Cuba
BRAZIL
The Brazilian Amazon: Preventing pillage in the rainforest
A scheme to regularise land holdings in the Amazon forest faces many obstacles
COLOMBIA
En fotos: estas son las cavernas donde se escondía el 'mono Jojoy'
Via IBD blog, Colombian VP: Add ecological devastation to cocaine's toll
Spies in trouble: The domestic-intelligence agency is caught misbehaving again
Video: Colombia discovers Farc hideouts
CUBA
Castro's New Republican Friends
Arturo Magín Colomar Puig, Cuban Political Prisoner of the Week, 3/1/09
Ill Castro 'takes walk in Havana'
Sanctions, Keeping Things in Perspective
Raúl welcomes special French envoy
ECUADOR
Ecuador's Borja Says Dollarisation is 'Faltering.´ I Wonder What He Means — Do These Ecuadorean Officials Want a Weaker Currency Than the Dollar?
Ecuador Profits from Dirty Financial & Drug Crimes
Meltdown response: Ecuador erects trade barriers, WTO fears spread of protectionism; Ecuador's response to crisis appears to be world's toughest
MARTINIQUE
French PM says order to be maintained in Martinique
MEXICO
Mexico needs Obama's eye
Mexico's Foreign Embassies: A Terror Threat to America?
Travelers from Muslim countries are bribing Mexican foreign service workers for travel documents that will get them access to the U.S.
A Stimulus Plan for Mexican Gangsters
Obama's promise not to crack down on medical-marijuana use raises the stakes for traffickers.
PUERTO RICO
In Puerto Rico, Less Is So Much More
UBS in Puerto Rico Pension Gets Fee Bonanza Seen as Conflicted
VENEZUELA
Journalists in Venezuela
Leftist Hero Hugo Chavez Takes Control of Rice Plants
Food supply is tied to Brazil, Argentina and Colombia
From 2005 to 2008, the value of food imports heightened 299 percent
Command economy fails in Venezuela
Chavez sends army to rice plants
Venezuelan President Hugo Chavez has ordered the army to take control of all rice processing plants in the country.
Arria versus Weisbrot: Debate at American University
What to Do about Hugo Chávez: Venezuela's Challenge to Security in the Americas
Chavez Orders Takeover of Venezuelan Rice Mills
Chávez, Ahmadinejad y la nueva "crisis de los misiles"