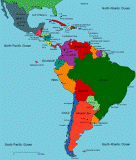 Welcome to the Carnival of Latin America and the Caribbean. If you would like your posts included in the Carnival, please email me, faustaw2 "at" gmail "dot" com.
While Venezuela remains in the news since this week precedes next Sunday's constitutional referendum, there are good news from the region. I'll talk in today's podcast at 11AM Eastern about how Uruguay's favorable business environment is attracting foreign investment, and there are other stories – check top story under the Latin America header for more.
LATIN AMERICA
Tables turned: Latin America's lesson for west
Latin America and the financial crisis
M.E. Times: Hezbollah in Latin America
TURKEY AIMS FOR USD 20 BLN TRADE VOLUME WITH SOUTH AMERICA
Latin America's Quiet Revolution
An unprecedented political and economic transformation is under way in most of the region
Populism: The Illusion that Won't Go Away
Market Memorandum's Weekend Reader — Feb. 7-8
ARGENTINA
Argentine seminary ousts Holocaust denier as leader
BOLIVIA
U.S. needs to end 'imperial attitude,' Bolivian says
BRAZIL
Bailing out…Brazil?
Economy Fuels Brazil's Ambitions Beyond South America
COLOMBIA
Ten new species of amphibian discovered in Colombia
A spiky orange rain frog and three poison frogs are among 10 new species of amphibian discovered in Colombia, scientists have revealed.
FARC Hostage Released After 7 Years
FARC slaughtered 300 hostages (via IBD blog)
CUBA
Honoring victims of Castro, Che
Cuba's Castro arrives in Moscow for talks – Financial Times
Omauris Rondón Rivero, Cuban Political Prisoner of the Week, 2/8/09
ECUADOR
"Caso Chauvín comprueba relaciones de Quito con FARC"
Correa Expels Sanity, Comity and Legitimacy
MEXICO
Mexican army runs joint patrols with Tijuana police
PANAMA
Es un milagro
Mexican Carrying $430,000 Arrested in Panama
PERU
Chinese mining group to invest 1 bln dollars in Peru
PUERTO RICO
Six Americans missing after plane crashes off Puerto Rico
Pregnant tourist kidnapped, killed
VENEZUELA
Central Bank musings: Printing money and going bankrupt
Allanada casa del estudiante Miguel Ponte y se lo llevan detenido
Campaña antisemita desde Venezuela
Chavez: Another Vote Possible on Term Limits
Chávez's biggest opponent: what's not on a dinner table
Food shortages and high prices are vexing Venezuela as President Hugo Chávez asks his countrymen to let him run for reelection indefinitely
Venezuela detains 11 suspects, including 7 police officers, in synagogue attacks (via LGF Linkviewer)
Chavismo's Amazing Self-Refuting Referendum Argument
Un ejercito al servicio de Hugo Chavez – por Casto Ocando
Venezuela behind on payments to oil contractors
Preso por horas por hacer campaña por el "No"
Grenade explodes at anti-Chavez party headquarters
Chavez Says Tape of Synagogue Attack Was Recovered
US POLITICS
Pass the Colombia Free Trade Agreement
United States of Argentina
How inflation turned a rising power into a pauper
IMMIGRATION
LAT's Song Wails Dirge for Illegal Immigrant's Woes
Special thanks to Ada, Eneas, the Baron, Kate, Larwyn, Maggie and SamK.
This week's posts and podcasts
Ecuador expels US embassy employee, and loses investor
Venezuelan blogger detained by police tells of his ordeal
Fidel Castro says Obama's Cuba policy "lost its virginity": 15 Minutes of Latin America
Venezuelan blogger detained by police
Ten killed in Brazilian slum raid: 15 Minutes on Latin America
Chavez's 10th anniversary: Today's 15 Minutes on Latin America
Bolivia's lithium: Today's 15 Minutes on Latin America
At Real Clear World
Of Beef and Money in Uruguay
Chávez's 10th
A tale of two forums