UPDATED.
More links on the referendum. Please scroll down
My article,
Chavez, Now and Forever?
on Hugo Chavez's referendum victory, is up at Real Clear World. Please read it and leave a comment. Related podcast
here
.
The Carnival of Latin America and the Caribbean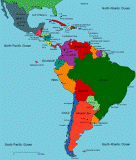 Undoubtedly the big story of the week is yesterday's Venezuelan referendum. Please scroll down to the Venezuela section for a roundup of posts and articles.
ARGENTINA
El día después
BOLIVIA
U.S. rancher at center stage in Bolivia land dispute
BRAZIL
Brazil's oil industry: Plunging in
Petrobras sets some ambitious targets
COLOMBIA
"The 'Intellectual Bloc' of the FARC"
IDEAGlobal Sees Mexico, Colombia Debt Prices Under Fire Due to U.S. Recession. Colombia Bond Yields Should Rise Further
CUBA
Te toca a tí
1971-2009: The Grey Millennium
Cuban human rights activist jailed
ECUADOR
Out of Ecuador, A Latin Lesson for Obama
'Difficult' for Ecuador to pay debt interest: minister
HAITI
Rebuilding Haiti: Weighed down by disasters
A modest success for the United Nations is threatened by nature and lassitude
MEXICO
Warrior in Drug Fight Soon Becomes a Victim
Mexican General Seized, Slain in Cancun
Video: Las parteras de Santa Teresa
1530: Tangaxuan II, the last Tarasco ruler
Via Instapundit, What does Slim want?
NICARAGUA
The pathetic political situation that is Nicaragua
VENEZUELA
Dictatorial reforms
NY Times: Chavez victory injects "fresh vibrancy into his socialist-inspired revolution"
Leftist Political Parties & Power
Welcome To The Revolution- No Term Limits For Chavez
No More Term Limits for Venezuela's Chavez
Bye Bye Venezuela: Chavez Wins Referendum, Gets to Run Again
POLICE BEHIND SYNAGOGUE ATTACKS IN VENEZUELA
Views of Venezuela's Chavez Have Hardened in the Region — and at Home
Chavez tries Mugabe style 'democracy'
Nothing Is Over Until He Says It Is!
Chavez becomes President-for-Life
Venezuela Expels EU Lawmaker for Comments on Election
Telling Venezuela how to vote
Hugo Chávez is abusing the resources of his petrostate to fund a campaign to ensure his presidential term is extended
Chavez Delays Valentine's Day for Referendum, Promises a Whole Week of Lovin Starting Monday
Venezuela opposition complains of Chavez tactics
Journalists' Association asks government to halt attacks
Hugo Chávez's Venezuela: Oblivious to the coming storm
In his first decade Hugo Chávez has presided over social programmes, inflation, crime and rising intolerance. Venezuelans will pay the price in years to come
Chávez Decisively Wins Bid to End Term Limits
Mr. Chávez vs. the Jews
With George W. Bush gone, Venezuela's strongman has found new enemies.
UPDATE
Suicide
Chavez Wins!… Venezuela Votes To Extend Marxist Rule
Now Chavez Can Be President for Life
Chavez Calls Win Mandate for Socialism
Fausta's depressing Venezuela election roundup.
AMERICAN POLITICS
Chavez and Obama
Chavez power grab: is this our future, too?
IMMIGRATION
16 illegals sue Arizona rancher
Claim violation of rights as they crossed his land
For more Carnival goodness
Shiny happy dhimmi – #13