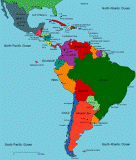 It's the day before inauguration day, and contrary to some overly optimistic expectations, t Hugo Chavez said on Saturday Barack Obama had the "stench" of his predecessor as U.S. president. While here in the USA "To trash Bush was to belong," the trend continues with Chavez and his minions. The carnival goes on!
In today's podcast I'll be talking about Pres. Bush's legacy in Colombia. Chat's open at 10:45AM.
LATIN AMERICA
"Lula marcó distancia ante la posición de Chávez" Lula distances himself from Chavez's position; Hillary and Obama aren't happy about Chavez's anti-Americanism, and other brief news today at Noticias24.
ARGENTINA
Argentine President Urges Consumers to Keep Spending while Cristina Fernandez visits Cuba
A U.S. Court's Threatening Ruling
Enrique Dumas, Who Took Tango to Television in Argentina, Dies
BOLIVIA
Oliver Stone entrevista a Evo Morales en La Paz
Book Review: "Los planes A y B de Evo Morales" de Paul Coca – Juventud y Analisis
BRAZIL
Brazilian church roof collapses
Iran wants Brazil's support for trying Israeli leaders as war criminals
Ex- terrorist gets asylum in Brazil
Italy's Foreign Min Blasts Brazilian Decision On Fugitive
Brazil's army: But what is it for? A philosopher redesigns an army
COLOMBIA
Uribe's Voice: Transcript of a Call
CUBA
Another flare-up of Castro's death rumors Signs keep adding up, while Fidel still active, Chávez now says yet Report: Fidel Castro in a coma
"Che" Director Has an Eerie Feeling. Wonder Why?
Medvedev hails renewed ties with Cuba
ECUADOR
Ecuador vows partial bond buy-back
GUYANA
Libya to establish People's Bureau in Guyana
MEXICO
Thick-billed Parrot: Mexico and beyond…?
They Kidnap Americans Don't They?
What If Mexico Loses Its Drug War?
NICARAGUA
Bad news out of Managua, the Pacto lives on
PANAMA
Cocaine plane trail is open challenge for Obama administration
PARAGUAY
Fundacion Libertad contra el monopolio de internet
PUERTO RICO
University of Puerto Rico begins new environmental education programme
Separatist? PBS Can't Call a Terrorist a Terrorist
URUGUAY
Uruguay Minister Posts Photos of Her Taking Shower on FaceBook
VENEZUELA
Chavez to swipe US$ 12 billion in international reserves for his personal use
Venezuela's Chavez takes stock
Chavez turns into Palestinian hero
Kuwaiti MP calls to move Arab League to Caracas
Waleed al-Tabtabai says Venezuelan President has proved he is more Arab than some Arabs.
Chavez – a worse threat than bin Laden?
Chavez 'part of evil side of politics'
Chavez Chagrined: Will Oil Companies Return to Venezuela?
Hey, what's one little Order of Magnitude between friends?
Venezuela's indigenous people: A promise unkept. Indigenous Venezuelans get welfare but, so far, not much land
ENTERTAINMENT
Part II: "Che:" Bad Movie About A Bad Guy Gets Worse
US POLITICS
Did Barack Obama promise Mexico's president he would open the borders?
Chavez to Assess Obama's Policies Before Reaching Out
Special thanks to Ada, the Baron, Eneas, Larwyn and Maggie.
The week's posts and podcasts:
Eeet steeenks…
Today's 15 Minutes on Latin America, at 11AM Eastern: Chavez wants the oil companies back
A name from the past: Noriega
Begging after biting the hand that feeds him
Today at 11AM Eastern: That military report on Mexico
"U.S. military report warns 'sudden collapse' of Mexico is possible"
Pres. Bush honors Tony Blair, John Howard and Alvaro Uribe
Today's 15 Minutes on Latin America: Venezuela's back-door currency devaluation
At Real Clear World Blog:
Venezuela: Can't Take "No" for an Answer
Venezuela: Currency Depreciation Through Back Door