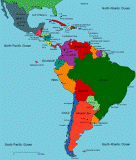 Welcome to the Carnival of Latin America and the Caribbean. If you would like your posts included in next week's Carnival please email me: faustaw2 "at" gmail "dot" com.
Yesterday's big news: Bolivia, the hemisphere's third poorest country after Haiti and Guyana, approved a new Constitution
Approval of the constitution, which caps a two-year campaign by Morales, will give expanded discretionary powers to the president, such as the ability to dissolve Congress. He will also be eligible to run for a second five-year term late next year. The earlier constitution did not allow consecutive terms.

Observers expect him to dissolve Congress and call for new elections ahead of scheduled December 2009 balloting.

As expected, voters in the western highland states such as La Paz with large indigenous populations overwhelmingly approved the new charter, according to the preliminary results, while voters in the four eastern states that passed autonomy measures last year were resoundingly opposed.

For many voters interviewed Sunday in the city of La Paz, the nation's capital, the most salient features of the new charter are the strengthened rights for Bolivia's three dozen ethnic groups, which make up about a third of Bolivia's 9.2 million population. The word "indigenous" appears 130 times in the new constitution.

According to clauses in the new document, those groups will now be able to eschew the traditional court system and resort to their own "community justice," claim some nationalized lands as their own and receive a greater share of royalties on minerals and energy developed on or beneath those lands.
I'm writing a post on the referendum for Real Clear World Blog, and will link to it here later.
Other news: Cristina Fernandez's trip to Cuba and Venezuela, and Mexico's Ominous Drug Wars
In today's podcast:
The Bolivian referendum, other headlines from today's Carnival, and a few words on Slumdog Millionaire from the context of third-world poverty. Chat's open at 10:45AM and the call in number is 646 652-2639. Join the conversation!
You can listen to the podcast here, live, or archived.
LATIN AMERICA
Mario Vargas Llosa: Atribuye la crisis al "despilfarro" y niega fin del capitalismo
ARGENTINA
Argentina to Swap Up to 11 Billion Pesos of Debt
BOLIVIA
Bolivia's new constitution
A passport to Utopia
Evo Morales campaigns for a great leap forward. Or back, say some
Spilling Ink Instead of Blood: Bolivia Poised to Vote on New Constitution
Chavez envia tropas militares armadas a Evo Morales – Noticiero Digital
Bolivia nationalizes BP subsidiary
Bolivia poll won't end opposition
In Bolivia, vote unlikely to heal divide
BRAZIL
Fugitives from justice in Brazil
The madness of asylum
Why this indulgence for a convicted killer?
GM to Invest TARP Dough in Brazil
CHILE
División de los poderes públicos.
Wal-Mart sees price cuts, no job cuts at Chile D&S-paper
COLOMBIA
Las FARC despues de Marulanda: ¿extincion estrategica o transformacion organizativa?
CUBA
castro, inc. cancels Canadian Oil Deal
Obama: Stay the Course on Cuba
Dialogue with the Castro brothers is not an effective policy.
Oil shift: Canadians out, Russians in
Rafael Ibarra Roque, Cuban Political Prisoner of the Week, 1/25/09
ECUADOR
El Loco Returns: How to Re Elect a Drug King Pin
HAITI
After Four Years, No Justice for Murdered Haitian Journalist
MEXICO
Mexico: The coming collapse
Economic policy in Mexico
Damage control
A Latin American country softens recession with counter-cyclical policies
Calderon seeks to dispel talk of 'failing state'
Remembering Enrique "Kiki" Camarena
The British method fails again…
The White House press release on the Mexico City Policy and Assistance for Voluntary Population Planning
Drug Gangs Have Mexico on the Ropes
Law enforcement south of the border is badly outgunned.
NICARAGUA
In Obama's Words, President Ortega Must 'Unclench His Fist'
PANAMA
Via Chiriqui chatter, Two Gems of Panama Spanish Colonial Period
PUERTO RICO
Six plead guilty in former Puerto Rico governor's case
VENEZUELA
Venezuela's León Let The Cat Out of the Bag: Public Finances Are in a Bind
After Chavez gives the green light to repression, wholesale attacks on the opposition begin
Bistromatics, Venezuela edition
Six of one, half a dozen of the other
GOSSIP
Ingrid Betancourt at the beach in Miami with her new boyfriend
AMERICAN POLITICS
Fatal Naivete On Free Trade
Letter to Obama Supporters
America's enemies remain our enemies.
This week's posts and podcasts
Hugo changes his tune
Hillary's Fatal Naivete On Free Trade
Castro says he "probably won't be around in 4 years": Today's 15 Minutes on Latin America
More student protests in Venezuela: Today's 15 Minutes on Latin America
Obama Seeks Halt to Legal Proceedings at Guantanamo
At Real Clear World, and today at 11AM Eastern: Latin American headlines on the Obama inauguration
Chavez sanctions tear-gassing Papal nunzio?
At Real Clear World:
Latin America Headlines on the Inaugural
Bush's Foreign Policy Successes, No. 5 Colombia
Brazil: Lula Invites Bush for Fishing Trip
Special thanks to Ada, The Baron, Eneas, Maggie and Maria.