One of my nightmares about Hillary as POTUS was for her to have been in office for two terms, followed by Chelsea, so the Republic would look like a Roman Empire scenario with the Julians and Claudians: Bush-Clinton-Bush-Clinton-Clinton, AND Bill esconced in Hillary's Senate seat, like a 21st Century Ted Kennedy, but without the drowning.
For the time being, that scenario is suspended: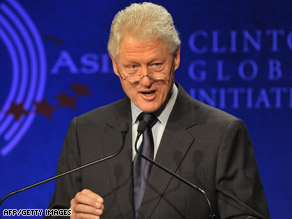 Bill Clinton not interested in wife's Senate seat, since it would cramp his fundraising style:
Responding to such speculation, Clinton spokesman Matt McKenna tells CNN that "it's completely false. President Clinton is excited to expand the work of his foundation which has more than 1,000 staff and volunteers in 44 countries advancing projects on HIV/AIDS, climate change, sustainable economic development and childhood obesity."
Bill's doing it for the fat kids.
Warms the cockles of my cold slim conservative heart, I tell ya.
UPDATE
A chill, Six Easy Steps to President Hillary in 2012