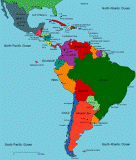 Welcome to the Carnival of Latin America and the Caribbean. If you would like your posts included, please email me, faustaw2 "at" gmail "dot" com.
This week's big story: Oil prices.
As of the writing of this post, oil is trading at $43.45. This signals a huge change in Latin American politics. Miguel makes a prediction on the internal effect in Venezuela in his post As oil cycle overshoots on the downside the worst effects of The Devil's Excrement will be in play, (via A Colombo-Americana)
LATIN AMERICA
Special Report: West Africa welcomes Latin America's drug barons
Canadian envoy does not foresee G-20 replacing G-8 as major forum
CARIBBEAN
A sea change in the Caribbean
ARGENTINA
Going pinker on the Plata: A new destination for gay tourists
In photos: Buenos Aires architectural details
BOLIVIA
Aumenta la pobreza con Evo Morales de presidente
BRAZIL
Fall of an opportunist: Justice for a controversial financier
Brazil's Decision on Deforestation Draws Praise
COLOMBIA
The Ingrid show
Via IBD Blog, FARC kill 8 Colombian police
Cuban political prisoner named RSF's Journalist of the Year
Castro Brothers Want to Meet Obama
From beyond the grave: Fidel offers to meet with Obama
We talk, you just listen and send money
Cuba tightens restrictions on bloggers
Cuba da su aprobación al Che de Soderbergh via Spanish Pundit
ECUADOR
Ecuador's Novel Carbon Storage Method
Mean and Petty Ecuadoreans Swear Allegiance to Cartels and Denounce Each Other
Ecuador to Boost Trade in Iran
Iran to impart high technology to Ecuador And what kind of technology would that be? "space science and satellite technology."
HAITI
Rape looms large over Haiti slums
MEXICO
Responding to Mexican Drug-Related Terrorism
Morgue is only safe place in Mexico
AP Feels Sorry for Mexico Over Drop in 'Money Sent Home' By Returning Illegals
Japan, Mexico agree on efforts to resist protectionism, climate change
NICARAGUA
Nicaragua and the MCC
PANAMA
First Russian warship uses Panama Canal since 1944
PERU
To the barricades: The politics of non-stop protest
PUERTO RICO
Illegal immigration from the Dominica Republic: 2 survivors bring relief to family, but 49 missing
Oscar De La Hoya leaves hospital, heads home to Puerto Rico. I don't know much about boxing, but it looks like De La Hoya should retire.
VENEZUELA
With revolutionary students like these who needs conservative old farts?
As Chavez attacks, the whole Venezuelan Government becomes offensive against its enemies
'Boligarchs' rise to top in socialist Venezuela
Chávez government handed out millions in exchange for votes
Opposition damns Chavez vote bid
Body of Cubs catcher Blanco found in Venezuela
US POLITICS
The Obama Administration and U.S.-Cuba Policy
Pro-Amnesty Activist Joins Obama White House Staff
US Trade Representative nominee in cocaine pardon scandal
Special thanks to Ada, the Baron, Eneas, Larwyn, Maggie, Maria and SamK.
THIS WEEK'S POSTS AND PODCASTS
Yoani's troubles: 15 Minutes on Latin America
Russian warship to cross Panama Canal
Hugo busts the opposition: 15 Minutes on Latin America
Rape in Haiti: 15 Minutes on Latin America
China sneezes; will Latin America catch a cold?