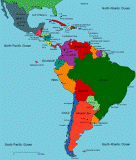 Welcome to the Carnival of Latin America and the Caribbean – A day late, but still weekly! Due to a heavy cold, and my working on a year-end roundup for Real Clear World Blog, the Carnival is small today.
LATIN AMERICA
THE UN VOTE AGAINST FREEDOM OF SPEECH, WHO VOTED HOW
BRAZIL
A stone-cold sober voice in Brazilian markets
CUBA
Cuba finds go it alone economy still sucks after 50 years
DOMINICAN REPUBLIC
U.S. Marine Special Operations train Dominican Forces, Enhance Relationships
ECUADOR
Ecuador: Rafa sez; "Pssst! Wanna sell me your bonds…..cheap like?"
EL SALVADOR
Canadian Company Threatens El Salvador
Free Trade Lawsuit Over Mining Project
MEXICO
Mexican Beauty Queen Arrested with Alleged Drug Traffickers
The on-going slaughter in Mexico
PUERTO RICO
Puerto Rico governor-elect says aid to potilical parties needs to be cut
Puerto Rico bond sale tops expectations
TRINIDAD
Trinidad PM discharged from hospital, recuperating in Havana
VENEZUELA
Democracia Chavista
Chavismo with time on its hands: expropriating shops
ENTERTAINMENT: The Importance of Being Ernesto,
Hollywood Celebrates Che Guevara
But it makes no films about the Cuban resistance movement.
Che Guevara: First he took Havana, now he's conquered Hollywood
Before the jungles of Bolivia swallowed him up, Che Guevara had enjoyed a run of success as a doctor, a revolutionary and, especially in his late career, as a student dormitory poster.
Special thanks to Maggie, Eneas and The Baron.