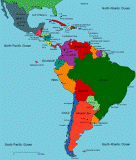 Welcome to the Carnival of Latin America and the Caribbean. If you would like your posts included in next week's Carnival, please email me: faustaw2 "at" gmail "dot" com.
Today's big story: Venezuela holds the state governor elections, and Chavez's candidates lost in Caracas, Zulia, Miranda
The opposition's wins today are a blow to Chavez's drive to centralize control of the oil-exporting country. While the president remains popular among poor voters, accelerating inflation, rising crime and a plunge in oil prices have caused voters to question his socialist political agenda.

Last year voters rejected his proposal to eliminate presidential term limits, and opposition parties expect Chavez to try make a second run at changing rules that will force him to step down in 2013.
…
Today's wins for the opposition in a handful of the country's most populous states and its largest city set the stage for increased conflict with the president. Opposition parties have been marginalized since Chavez's coalition nearly swept regional elections in 2004 and won almost every seat in the National Assembly in 2005.

During the election campaign this year, Chavez threatened to suspend funding for development projects where opposition candidates win.
Why did he lose Caracas? Crime:
Ledezma said he'll make crime reduction a priority as mayor of greater Caracas. Caracas's homicide rate jumped to 130 per 100,000 people last year, a 47 percent increase from 2005, according to government data compiled by the Central University of Venezuela's Center for Peace.
Chavez lost the most populous states (link in Spanish).
Analysis by Venezuela News and Views, The Devil's Excrement, Simon Romero, and Juan Forero. Update, also Hugo Chavez's XXI century socialist revolution on the wane
I'll be talking about this in today's podcast at 10AM Eastern. You can listen to the podcast here.
LATIN AMERICA
Flux in Latin America Affects Russia's Diplomacy
ARGENTINA
NUCLEAR AGREEMENT SIGNED BETWEEN ALGERIA AND ARGENTINA
BOLIVIA
Bolivian president says he won't let DEA come back
BRAZIL
Elhefnawy: The Next Wave of Nuclear Proliferation
Brazilian Gay Groups Launch Multiple Lawsuits to Silence Christian Opposition
Flurry of Lawsuits is Attempt to Prevent Criticism of Homosexual Movement
The Amazon's indigenous people
The other Brazil: The mixed blessings of the simple life led by indigenous people deep in the forest
COLOMBIA
Tumbling pyramids
A state of emergency is declared after swindled investors take to the streets
CUBA
Yoendreis Márquez Moya, Cuban Political Prisoner of the Week, 11/23/08
Communism on Our Border Gets a Big Shot in the Arm — Raul Castro Sings in Chinese
MEXICO
Por fin, Ortega derrota a AMLO en la direccion del PRD
The scribes' lament: A dying profession in the heart of the city
NICARAGUA


Election Fraud in Nicaragua: Two strongmen team up to undermine democracy/
Via Pat, Sandinista protesters intimidate opposition in Nicaragua
PERU
Peru, China to Sign Trade Accord Quickly, Garcia Says
PUERTO RICO
The NCAA basketball championships are going on in Puerto Rico right now. Xavier beats No. 13 Memphis in Puerto Rico
VENEZUELA
Chavez's fraud game and also by John Thompson, Chavez's Caracas capers
Gang wars turn Caracas into a murder capital
Nearly 3,000 have been killed in the city over the past 12 months amid drug conflicts and kidnaps
US POLITICS
Che Guevara statue in Central Park? Visiting Che Guevara in Central Park
Special thanks to the Baron, Eneas, Larwyn, Maggie and Maria.
This week's podcasts and posts:
FrontLine on Chavez
I first posted that GM to spend $1billion of the bailout money… in Brazil, but am glad to say that I was wrong.
Colombian tailor hits the big time with bulletproof clothing; Guardian blames Dick Cheney.
APEC, Lula's terrorist chief of staff, and the Venezuelan governor elections: 15 Minutes on Latin America
Today at 10AM Eastern: Humberto Fontova
Hu's with Fidel? Yeah, right.
NYT: Pass the Colombian Trade Pact