It's been two weeks, but Michelle Obama's dress is still generating commentary, all of it negative.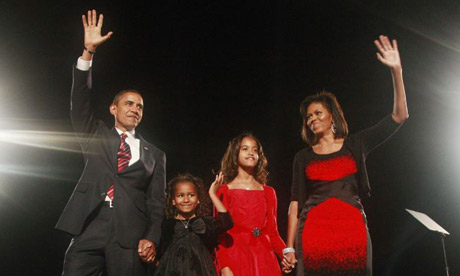 Now it's Germaine Greer's turn (h/t Don Surber):
If Michelle Obama's such a great dresser, what was she doing in this red butcher's apron?
At no time would what she wore be more significant than on the night of November 4 2008, when, win or lose, the eyes of the world would be upon the Obama family as the four of them processed on to the stage in Grant Park, Chicago. If Michelle had dressed herself and her daughters for defeat, she could hardly have chosen anything more saturnine. Seven-year-old Sasha was dressed from head to foot in black: black dress, black hose, black shoes. Ten-year-old Malia was just as black about the legs, but her dress was blood-red. Any colour is better than pink, but these robust choices hardly strike one as girly. The girls' odd outfits were clearly chosen as foils to their mother's dress, which was all black with an eye-burning red panel that splattered itself down the front like a geometrical haemorrhage, held in by a criss-cross sash of black. The red extended upwards almost to the neckline, and downwards to mid-thigh, petering out top and bottom in a sort of cast-off splatter. The effect of the strong contrast was to turn a mere frock into a poster in the most disturbing colours known to man, the colours of chaos. The juxtaposition of a rectangle of red on a black field is what we might expect to find on a flag or a shield. Coral snakes and venomous spiders signal their destructive potential by the display of similarly violent contrasts.
Ugly dress, and odd choice to pair it with a cardigan. Why not wear a more becoming dress with sleeves instead?
The coral snakes and venomous spiders analogy is bad enough, but Greer is not above being catty,
Her kitten heels make sure that her bigger head never out-tops her husband's.
Mwwweeewww!
One thing the media (which so touted Sarah Palin's $150,000 in clothes) is not mentioning is that Narciso Rodriguez's ready-to-wear dresses retail between $1,500 to $2,000 each.
And that doesn't even get you the cardigan.