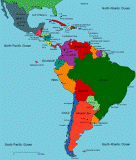 Welcome to the Carnival of Latin America and the Caribbean. If you would like your posts included, please email me: faustaw2 "at" gmail "dot" com.
The big news this week: the world-wide liquidity crisis. Via The Perplexed Investor, Latin American Banks Use Reserves to Save Currencies
Oct. 9 (Bloomberg) — Latin American central banks are being forced to draw on record foreign reserves built up during the six-year commodities rally to stop their currencies from sinking in the worst financial crisis since the Great Depression.

Brazil sold dollars for the first time in five years and Mexico sold $2.5 billion in the spot market between yesterday and today, helping their currencies pare losses. Chile may follow suit, Barclays Capital analyst Rodrigo Valdes said.

The worst currency meltdown in Latin America since the emerging-market economic crises of the 1990s is causing companies' dollar debts to swell as well as sparking derivatives losses, and may stoke inflation. The decision to intervene came after central banks in the U.S., Europe and Canada cut interest rates in a coordinated effort to boost confidence.
Latin American can weather the storm
There is not much Latin America can do about the leadership vacuum in the U.S. or Europe. But it can anchor its own ship. Serious Latin economies — obviously we don't mean Argentina, Venezuela, Ecuador, Nicaragua, Honduras or Bolivia — have spent the past two decades preparing for such a moment.

Market reformers began their work in the late 1980s, though Chile started earlier. Over time their efforts put an end to profligate state spending and runaway inflation. Today dollar reserves are high, net foreign debt is low or nonexistent, and banks are healthy. State-owned firms have been sold and trade is more open than it has been in 80 years.
Go read every word. Here's Mary's video:
LATIN AMERICA
An Introduction to Spanish Irregular Verbs
ARGENTINA
Fishy business: Patagonia's troubled waters
Del dinero burbuja y otros ensayos
BOLIVIA
Bolivia Spirals Toward Crisis
Ecuador and Bolivia Do Not Deserve Preferential Trade Extension
BRAZIL
Pointers to the presidency: A good day for São Paulo's governor
Brazil poised to be an oil superpower
COLOMBIA
Via IBD Blog, 'Colombia cheated negotiating guerrillas'
Diplomatic breach widens between Colombia, Ecuador
CUBA
In food crisis, Cuba limits sales so all can eat
US is racist, El Coma Andante declares
ECUADOR
An Andean arc of crisis
USA Democratic Party Called Now to Declare Allegiances to Liberty or Andean Narco-communism
The New, Bizarre Constitution of Ecuador
[Analysis] Panentheism, political correctness, nationalized oil, and claims on Antarctica
JAMAICA
An article I missed from last month, McCain and the Caribbean
MEXICO
Hello, Mexico? We need advice
PERU
Protesters decry Peru corruption
PUERTO RICO
Strong quake shakes Virgin Islands, Puerto Rico
VENEZUELA
La flota rusa que viene hacia Venezuela ya está en Libia The Russian fleet heading to Venezuela stops over in Libya
The Miami Venezuelan Maletagate trial part XIII: The defense calls a friendly and unethical witness to help Duran
Ayers has not left radicalism behind
World War III knocking at our door
Dmitry's Diatribe
Chavez, Ahmadinejad, Medvedev.
Venezuela's oil production falls under Chavez Way to (Hu)go; also at The Moderate Voice
And one for Columbus Day, Chávez arremete contra Cristóbal Colón, pero pide que no "destruyan sus estatuas"
AMERICAN POLITICS
Obama – Soros – South American Socialism
Congressional Endorsements – Lincoln vs Raúl
Via IBD Blog, Venezuela's Chavez Says CIA Has Offices in State of Zulia
Report: Obama's Girlfriend Banished to Caribbean by Angry Michelle
Special thanks to Jeff, Kate, Larwyn, Maggie and Maria
This week's podcast and posts
Bolivia, from bad to worse