UPDATE
You can listen to today's podcast here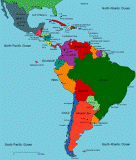 Welcome to the Carnival of Latin America and the Caribbean. If you would like your posts included, please email me: faustaw2 "at" gmail "dot" com.
This week's big story: the hurricanes traveling through the Caribbean. Over 500 people died in Haiti.
LATIN AMERICA
'Cold War II' could involve Latin America
Star Resorts Development Inc. (SRDP.OB): Playing the Tourism Boom in Latin America
Mary Anastasia O'Grady talks about bringing stability to Latin America:
Al deterioro de las instituciones centrales de la democracia en Bolivia, Ecuador y Venezuela se les suman ahora los casos de Honduras y Nicaragua.
DPA: Iran, Bolivia, Venezuela can recognize independence of South Ossetia, Abkhazia
The war on drugs hits serious snags
The dangers of Hezbollah in Latin America
ARGENTINA
Satisfying the creditors: The President Pays Her Dues
ARUBA and Netherland Antilles
Antilleans outraged by ethnic database plan
BOLIVIA
Evo Morales huye en helicoptero hacia el Brasil – Venezolanos en linea
Despite U.S. Aid, Coca Cultivation On Rise in Andes
Two "revolutionary nations" agree to boost their relations
Iran and Bolivia are natural allies: Ahmadinejad
BRAZIL
Spying on justice: The top spooks eavesdropped on the top court
(Audio starts when you click on link) Jeffrey Nyquist interviews Brazilian philosopher Olavo de Carvalho
COLOMBIA
Un nuevo PC de las FARC amenaza con un escándalo mayor que el de Reyes
El gobierno de Colombia aseguró hoy que la información contenida en los computadores y memorias USB del jefe guerrillero "John 40″, cuyo campamento fue atacado esta semana, es más grande que la encontrada a "Raúl Reyes".

El ministro de Defensa, Juan Manuel Santos, confirmó, de acuerdo a lo reseñado por Radio Caracol, que en total fueron tres computadores y 40 memorias las encontradas en Puerto Cachimo, Guaviare, donde se desarrolló el operativo.

"Nos va a dar información igual o más importante de la que obtuvimos en el ataque a Raúl Reyes", dijo el ministro Santos quien añadió que "la información se irá revelando paulatinamente con el fin de no prevenir a esta guerrilla.

De otro lado, Santos informó que Gener García Molina, alias"John 40″, resulto herido en el bombardeo y huye herido por las selvas del Guaviare.

En el ataque, llevado a cabo por unidades de la Fuerza Omega, fueron abatidos 9 guerrilleros y 4 más fueron capturados.

Las autoridades colombianas presumen que el jefe guerrillero está protegido, en su huída, por 4 guerrilleros del frente 43, que alcanzaron a huir con él, indicó Santos.
'Rescue' latest in series of setbacks for Colombia's FARC
Bloggers at the RNC: Josh talks about Colombia
CUBA
At least 7 newborns died in a Cuban hospital due to a bacterial infection
U.S. policy bad for Cubans in need
ECUADOR
Under Siege: Freedom in Ecuador
The Economist's Country Briefing predicts double-digit inflation.
Putting the rights of nature in Ecuador's constitution
Freedom in Ecuador under siege
Venezuela e Irán envían urea a Ecuador
HAITI
Haitian Hurricane Relief
Eyewitness: Haiti's storm ordeals
MEXICO
Oh rose, thou art sick: The president faces a long goodbye
NICARAGUA
Nicaraguans continue to be disillusioned with their current situation
Repression in Nicaragua under Sandinistas
TURKS and CAICOS
Caribbean lashed by Hurricane Ike
VENEZUELA
Chavez announces that he'll take part in military maneuvers with the Russians and will "graze past Miami" Chávez anuncia que irá en un Sukhoi a Cuba y que pasará "rozando Miami" Considering the current weather in the Caribbean, that's going to be a bumpy ride. Chavez invites Russia to maneuvers, as Venezuela to host Russia navy exercise in Caribbean (h/t Lady Logician).
Energy and arms dominate Russia-Venezuela talks
Chavez takes over fuel transport
A Little Insult Is All the Rage in Venezuela: 'Pitiyanqui'
Electric sector begins to show Chavez' recipe for disaster
How the US Gov. made 20 millions today from Hugo's Citgo
Upcoming event
'Bolivia: Surviving and Thriving despite XXI Century Socialism' September 9, 6-9PM
Video
The birth of Freedom
AMERICAN POLITICS
Sarah America Will Take It To Petrotyrants
HUMOR
The Val Guide to Hurricane Preparedness
Special thanks to Eneas, GoV, Irish Spy, and Maggie.
PLEASE NOTE THE NEW PODCAST SCHEDULE:
The daily 15 Minutes on Latin America podcast has been moved up to 10AM Eastern.