Due to the unexpected delays, the Carnival's a day late.
This week's big story: the Republican Convention.
Yesterday I was talking to Leon Krauze and Juan Pablo Salas of Radio Caracol. I asked Leon what is the most difficult part about reporting on American politics. His reply was, "Ignorance: Latin Americans do not understand the American political process at all, so in every broadcast I try to explain how it works and what it means." Radio Caracol is one of several major Spanish-language media present at the Convention. I'll be talking to others during my stay in St. Paul.
And now for the regular Carnival.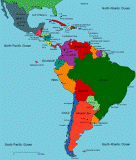 Welcome to the Carnival of Latin America and the Caribbean. If you would like your posts included please email me: faustaw2 "at" gmail "dot" com
LATIN AMERICA
Bolsa De Brazil Wants To Create A Network With Neighbouring Markets IBD Blog says,
The responsible countries of Latin America, that is, the countries that are going somewhere besides hell in a handbasket, are getting together to make their stock markets more unified and therefore more liquid. Brazil, Peru, Chile and Colombia, all good democratic countries with worthy economies and credible governments, have come up with a new plan to link exchanges. This is a smart idea and a welcome approach. You will not see Hugo Chavez or any of his freakish allies anywhere near this. But you will see this amass power and spread prosperity. Viva Brazil! Viva Colombia! Viva Chile! Viva Peru!
ARGENTINA
Argentina: Rinden homenaje a terroristas que asesinaron a un militar
BRAZIL
Soros Invests $811 Million In Brazilian Oil
A funny kind of reward
Just when production from Petrobras's big new oilfields gets going, the government ponders changing the rules on oil exploration
Brazilian oil discoveries may cost US$240 billion
And what are they doing with all that money? Lots:
Petrobras Hires 80% of Deepwater Rigs, Inflates Rents
Narco terrorists are chopping heads in Mexico
PERU
Tread softly
Oil and gas extraction does not have to hurt the rainforest, or its people
VENEZUELA
What can Venezuela do to counter Chavez autocratic wishes?
The Miami Venezuelan Maletagate trial part I: Case File "Prior bad acts by Defendant Duran"
Hizballah, Iran becoming entrenched in Venezuela
The Dangers of Hezbollah in Latin America
AMERICAN POLITICS
Fishing
Biden and Latin America, a Chance to Restore U.S. Standing?
Need proof of racial profiling in credit card offers? Ask Rich Aguirre.
This week's podcasts and posts