You would think that The One, when speaking to an audience at a rodeo ring, would want to charm the audience with a well-rehearsed, yet seemingly spontaneous and natural speech.
Heck no!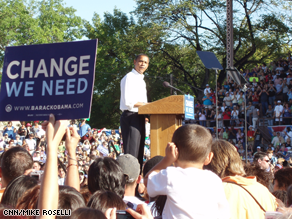 Obama's teleprompter hits the trail
the Illinois senator used a teleprompter at both his Colorado events Monday — making for a particularly peculiar scene in Pueblo, where the prompter was set up in the middle of what is normally a rodeo ring.
As The Anchoress points out,
he cannot be trusted to speak extemporaneously before these small local crowds, where you're supposed to be able to do that, or at least to keep on script with the aid of a discreet notecard.
…
I think Obama is stressed and he can't be trusted to keep his tone and his message together, coherent and safe, and that's why he needs the prompter.
More importantly, Obama can not trust himself to do so.
Even in the bull ring.
As to the question, "can this guy keep it together under stress?" the answer is, clearly, no.