Via Larwyn and Maria, Sarah Palin returns to Alaska wearing red high-heeled pumps.
Lisa Schiffren points out,
for the record, that is the second pair of ruby-red shoes she has worn in the last two weeks.
Going by that photo, I belive that she's wearing Stuart Weitzman future, available at Zappos for $216.00.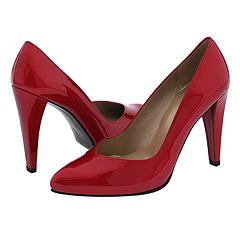 A splendid choice, especially for us who love red shoes.
David All, who was at the RNC last week, sent photos of other shoe choices during the convention. McCain was wearing his Ferragamo loafers while Palin wore open-toe pumps:
Here's the well-shod Palin family:
Following the Palin shoes:
The Ferragamo ticket?
The right Palin shoes
Palin's shoes, and firing guns
Obama's stuck on lipstick. The Anchoress has the perfect button for Obama.