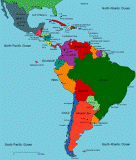 Welcome to the Carnival of Latin America and the Caribbean. If you would like your posts included, please email me: faustaw2 "at" gmail "dot" com.
This week's big story, which was rather predictable: Yesterday's referendum in Bolivia continues the current status, with Evo Morales still in power and the opposition also in Eastern Bolivia remaining strong:
Bolivians voted Sunday to keep President Evo Morales in office, with unofficial returns on a recall referendum giving him a victory even larger than the one that put him in office more than two years ago.

But despite drawing more than 60 percent of the vote, according to partial counts from polling stations, Morales appears to have not fundamentally changed the prevailing political deadlock in this Andean nation. The governors in eastern Bolivia, who form the powerful opposition to Morales, also held their seats by wide margins, leading to concerns that the voting results could exacerbate tensions here.

The president, vice president and eight of the nine state governors were subject to Sunday's recall vote. Three governors, including Morales opponents from La Paz and Cochabamba, were defeated. Meanwhile, the governor of Santa Cruz, the relatively wealthy lowlands state that has led the fight for more regional autonomy and to remove Morales, was backed by nearly 70 percent of voters, Bolivian television reported.
The departments voting against Morales are: Santa Cruz (70%), Beni (78%), Tarija (62%) and Chuquisaca (61%). As you may recall last May Santa Cruz, home to 25% of Bolivia's population, voted for autonomy, a result which Morales dismissed.
Noticias24 has a video (in Spanish) of the final results.
Official results will be available in 7-10 days.
Morales to push on with Bolivian reforms after winning vote. The Beeb makes it sound as if having opposition in Bolivia is a bad thing, since they claim that the referendum was "designed to heal the country's wounds" – into a Communist country.
As regular readers of this blog know, Evo Morales has the financial and ideological support of Hugo Chavez. Version Final estimates that in the past two years Chavez has sent Morales US$2,912,851,275, including $55 million for the purchase of helicopters and $30 million for improving the Bolivian army ifrastructure. More at the PDF file in Spanish (via el duende de Santa Cruz). Gateway Pundit posts that Venezuela and Iran are to loan Bolivia 225 million dollars to create a state cement company for the construction of roads and houses, ignoring housing shortages in their own countries.
UPDATE Venezuela News and Views analyzes the results
Rural and city vote is very split everywhere, the same phenomenon we observe in Venezuela with Chavez, as education and business drive away like garlic the vampirism of state control. this is dramatic in Potosi, the province that gave Evo its largest victory with 80.8%. The rural vote there was 94.1% FOR Evo but a much lower 68.5% in urban areas.

Crossover voting is more prevalent and important than what I thought at first. For example in La Paz the NO to Evo is 22.9% but the YES to Paredes was twice that amount, at 42.3%.

The division of the country is made clearer if we look at the average Evo Victory. In the 5 provinces he won, the average percentile SI is 70.8%. But in the four he lost the percentile average SI is 44.3%!!!! A difference of 25%!!!! It hardly gets more divided than that.
You must read the rest of his post.
In other Latin American news, Colombia has destroyed a FARC outpost described as "a small city" with 43 houses, where the Colombian military found weapons, electrical plants and documents. The information leading to this strike was provided by two informants.
ARGENTINA
With buddies like these, Argentina and Venezuela are in real trouble.
BOLIVIA Articles prior to the referendum:
Bolivia, Shell Oil reach pipeline compensation deal
Bolivia reached a "friendly" agreement Aug. 8 to compensate Royal Dutch Shell for its stake in the nationalized gas pipeline company Transredes
Morales Says He `Doesn't Fear' Results of Recall Referendum
Bolivia: Se acerca la batalla del jacha uru
Protests Mount as Bolivia Heads for Crucial Vote
BRAZIL
Brazil to Fight Ethanol Tariffs
Paying for the forest: Donations are welcome, even from foreigners
CHILE
Bomb Explodes at Brazilian Embassy in Santiago, EFE Reports
Viento en contra sobre la Concentracion
COLOMBIA
So … Should Colombia Give the Hostages Back to the Terrorists?
Afghanistan: Colombian soldiers to back Spanish troops
FARC Commanders Indicted Over Kidnappings of Americans
The picture of the Revolución
This photo is the perfect metaphor for the half-century long Communist dictatorship: the infrastructure, the economy, and Cuban society crumble away while the cult of personality is highlighted in bright letters.
Political prisoners end hunger strike
GUATEMALA
US tourist hacked to death in Guatemala
ECUADOR
Constitutional coup d'etats by Chavez and Correa
Death Threats Received by Archbishop and Human Life International Leader in Ecuador for Opposing "Abortionist" Constitution
Special forces search for FARC
HAITI
George Soros' Testing Ground
MEXICO
Mexico's Poor Forgo Goods as Income From U.S. Drops
Drug cartels feeling the heat
Under unprecedented pressure, Mexico's drug cartels have unleashed epic violence, which some say shows that antidrug measures are working.
The Mexican kidnapping business
NICARAGUA
Vinculos de Daniel Ortega con las FARC
PARAGUAY
The next leftist on the block: Measuring up Fernando Lugo's plans for a misgoverned country
TURKS and CAICOS
Commentary: Are the Turks and Caicos Islands ready to leave the nest?
VENEZUELA
In Enacting Decrees, Chávez Makes New Power Grab
VENEZUELAN BUSINESSMAN TURNS THIEVES INTO EMPLOYEES
Alberto Vollmer's programs for poor squatters and young hoodlums seen as a model for defusing social tensions.
Power Grab
Venezuela's Hugo Chávez launches a new attack on his country's freedoms
S.O.S. Venezuela's Political Disaster – August 7, 2008
What now in Venezuela? How do you fight against a "legal" coup d'etat?
Chavez accused of reviving old reforms
Chavez continues nationalization drive
AMERICAN POLITICS
A Lousy Latin Lover
PODCAST:
I'll be talking about Bolivia in this morning's podcast at 11AM Eastern. The call in number is 646 652-2639 and chat will be open at 10:45AM, please join us! UPDATE You can listen to the podcast here.
Special thanks to the Baron, Eneas, Maggie and Siggy.