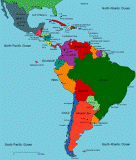 Wecome to the Carnival of Latin America and the Caribbean. If you would like your posts included in next week's Carnival please email me: faustaw2 "at" gmail "dot" com.
The big story of the week: Hugo Chavez enacts 26 laws that became effective immediately even when only the title of the laws (not the laws themselves) were made public. On the same day, he nationalized the Banco de Venezuela which was owned by Spanish Banco de Santander, saying that the bank's deposits will now be in the government's hands.
I have started a daily 15-minute podcast on Latin America:
On Tuesdays and Fridays, you can listen to my live podcasts at 11AM Eastern Blog Talk Radio.
On Monday, Wednesdays and Thursdays I do video podcasts at 2PM Eastern at NowLive. iTunes subscription here, XML Feed here.
BLOGS OF THE WEEK
In Spanish: Disidente Cubano
In English: Financial Times Latin American Agenda
ARGENTINA
Waiting for revenge
BOLIVIA
New Paper Suggests Bolivian Conflict Revolves Around Lopsided Control Over Land, Natural Gas
Foley Hoag Wins Key Victory for Government of Bolivia in Investor Dispute over Nationalization of Telephone Company Entel
Carry on voting: Two reports, first from Bolivia and then from Ecuador on the radical socialists who hope that constitutional referendums will transform their countries
BRAZIL
Lula's lieutenants cozy with FARC (in Spanish)
Brazil's Embraer aims to lead world executive jet market
Elite Squad demonstrates the point of police brutality, says José Padilha: José Padilha's drama about corrupt cops in Rio has attracted controversy – deservedly so, says our correspondent
Brazil's Economy Lifting Rich And Poor
Brazilian Army to Permanently Occupy Indigenous Territories
COLOMBIA
Mario Vargas Llosa writes (in Spanish) about the rescue: Operacion Jaque
While bank runs plague Venezuela next door as panicky depositors seek to withdraw their savings before Chavez can get his hands on them, Colombia is an investment magnet, drawing in a record $3.1 billion in the first quarter. If things stay steady, the country should draw at least $12 billion by the end of the year. It would be a 25% rise from 2007's record-setting $9 billion. See what happens when a country cleans up and follows free markets? The inflowing investment is proof of it, a belief in Colombia's future. Viva Colombia!
Colombia's share of world cocaine plummets
Colombia registers foreign investment record
Colombia's capitalist communes
Good news from Colombia: coke production down, business up
Uribe to ask US for longer trafficking sentences
CUBA
A history lesson from Cuba
3rd anniversary of El Café Cubano…sad day
fidel castro says that Edmonton is a "dumping ground"
Don't Get Too Excited About Cuban 'Reforms'
Big Brother's Shadow: Raul Castro preaches patience
DOMINICAN REPUBLIC
Dominicans' role in hunt for Alzheimer's cure
ECUADOR
Ecuador to shut down U.S. anti-drug operation
From the Tehran Times, Ecuador opens trade office in Iran
Ecuador's Path to Dictatorship Continues Unchecked, ATPDEA Extension Should be Conditioned
Ecuador sticks with US dollar as currency
The good life for the president and for lawyers
GUATEMALA
Is is true what they say about Muso?
HAITI
Aristide's American profiteers, especially at Fusion, whose board at the time (during the Clinton administration) "read like the who's who of Democratic politics"
The chairman of Fusion's board was and still is Marvin Rosen, who was the finance chairman of the Democratic National Committee during the 1996 Clinton fund-raising scandals. During the late 1990s, Joseph P. Kennedy II and Thomas "Mack" McLarty, both prominent Democrats, were on the board. Fusion has previously denied any wrongdoing.
Part 2 here.
Blogging about the Carnival
War News Updates
Prairie Pundit