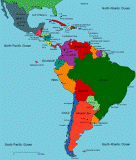 I'm still on the road but the Carnival goes on! Welcome to the Carnival of Latin America and the Caribbean. If you would like your posts included in next week's carnival please email me: faustaw2 "at" gmail "dot" com.
LATIN AMERICA
The New Battlefield in Latin America
ARGENTINA
Argentina blocks farm export tax
BRAZIL
Mending an icon: How Rio's first good governor in decades is starting to renew Brazil's most famous city
COLOMBIA
SWISS HELP FARC COVER UP ITS OWN BLUNDER
FARC, Chavez y Correa: el trio del terror
Love fest: Presidents Chávez and Uribe agree to bury the hatchet—for now
Hard Reality Of 'Soft Power' In Colombia
CUBA
Cuba to Allow Private Farming: Land Will Remain in Government Hands, However
ECUADOR
Ecuador assembly approves Constitution
New Ecuadorian Constitution has 494 Articles
Freedom of Speech Killed by Euthanasia in Ecuador
EL SALVADOR
Documentary on Hugo Chavez aired on Salvadoran TV (in Spanish). You can watch it in full at Fuerza Solidaria
Here's the first part on YouTube

MEXICO
Sicarios mexicanos reciben formacion de extremistas en Iran – Terra Top-ranking Mexican criminals with military background travel to Iran via Venezuela for terrorist training.
VENEZUELA
Chavez pleads for investment as falling output fuels inflation
Venezuelan President Hugo Chavez wore a suit for the occasion, and, grinning at about 300 business leaders he usually calls "oligarchs," asked for help relieving a drought in investment.
Chavez minister anti inflation plan: Haggle!
Deadly massage : How not to tackle a soaring murder rate
Galp to Receive 1 Million Barrels of Oil From Venezuela Hugo Chavez keeps giving away Venezuela's wealth at our expense
AMERICAN POLITICS
In South Florida Congressional Race, Incumbent and Challenger Have the Ethnic Bases Covered
Special thanks to Maria, Eneas, Siggy, Larwyn, Pat Patterson and Judith