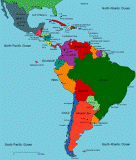 Welcome to this week's Carnival of Latin America and the Caribbean. If you would like your posts included in the Carnival, please email me your links: faustaw2 "at" gmail "dot" com.
The big story? Hugo and King Juan Carlos of Spain patched their differences. After the King told Hugo to shut up last November, it took 10,000 barrels of oil/day at $100 for things to go back to chummy.
I'll be talking about this in my morning video podcast at Now Live at 11AM today. I'll be doing a video podcast at Now Live on Mondays, Wednesdays at Thursdays, and a regular podcast at Blog Talk Radio on Tuesdays and Fridays at 11AM Eastern.
ARGENTINA
Argentine Democrats Strike Back
Et tu, Julio? The president suffers a heavy defeat at the hands of her number two
BOLIVIA
Where is the outrage?
BRAZIL
Brazil news photographers threatened by drug gangs in Rio, forced to erase images
CAYMAN ISLANDS
News item: Cayman Islands under US Senate scrutiny. Blog commentary: Blood and manure.
CHILE
Los costos de una proclamacion
La irreflexiva proclamación de Ingrid Betancourt como candidata al Nobel de la Paz realizada por la Presidenta Michelle Bachelet evidencia tanto injustificada improvisación en las iniciativas internacionales de La Moneda como preocupante irrespeto por los mecanismos y procesos que requiere la diplomacia para sumar aliados y consolidar amistades en el mundo.
COLOMBIA
Winning the counterinsurgency battle in Colombia
FARC 'co-ordinator' held in Spain
Mossad Helped in FARC Hostage Rescue?
CUBA
Parrot diplomacy: Having rescued Cuba with cheap oil, Venezuela is to be paid back in zebras
Bombers In Cuba, Bases In Venezuela
News item: Cuban leader warns of austerity Blog reaction: When the going gets tough…
ECUADOR
Highlights from Ecuador's draft constitution
Sensing a Negative Tide in DC, Ecuador Hires a DC Lobbyist
Ilegal Operations in Existence by and From Colombia's "Neighbors"
Ecuador Could Give Same-Sex Unions Parity With Marriage
MEXICO
Crude and oily: A controversial referendum and the future of the state oil company
This Time, It's Different
Global Pressures Have Converged to Forge a New Oil Reality
Early this month, Valero Energy in Texas got the unwelcome news that Mexico would be cutting supplies to one of the company's Gulf Coast refineries by up to 15 percent. Mexico's state-owned oil enterprise is one of Valero's main sources of crude, but oil output from Mexican fields, including the giant Cantarell field, is drying up. Mexican sales of crude oil to the United States have plunged to their lowest level in more than a dozen years.
Ted Kennedy's most recent award
NICARAGUA
El juego de Daniel Ortega
Nicaragua looks more and more like Venezuela each day
PERU
Where rebuilding is therapy
PUERTO RICO/VIRGIN ISLANDS
Virgin Islands weighs gas pipeline to Puerto Rico
SURINAM
STC plans to acquire land in Surinam, Indonesia
To tap the potential of jatropha bio-fuel for expanding product portfolio, STC plans to acquire vast tracts of land in Surinam and Indonesia to grow the plant and market the oil to end users.
URUGUAY
Uruguay Land Prices Double as Farm Policies Lure Soros, Marfrig
A third of Uruguay's agricultural property may now be owned by foreigners, according to Uruguay's Rural Association. They include farm companies PGG Wrightson Ltd. of New Zealand and Buenos Aires-based Adecoagro, which is backed by billionaire investor George Soros.

International buyers, seeking to take advantage of rising global food prices, are attracted by the South American country's relatively cheap land, policies that encourage foreign investment, and no tariffs on farm exports, said Roberto Vazquez Platero, a former agriculture minister. As a result, farm prices have more than doubled in three years.
…
In Uruguay, Argentine farmers don't face the same taxes and price controls as they do at home. After four months of protests, Argentina's producers forced President Cristina Fernandez de Kirchner to cancel a March 11 increase in oilseed export taxes to more than 45 percent from 35 percent. The scrapped tax would have made it unprofitable for many farmers, already stretched by the 35 percent levy, to grow soybeans, said Eduardo Buzzi, head of the Argentine Agrarian Federation.

By contrast, Uruguay, whose population of 3.3 million is less than a tenth of Argentina's, charges farmers a flat 25 percent tax on their income.

'Investment Was Welcomed'
"What Uruguay did was simply not to interfere," Eduardo Blasina, an agriculture analyst, said in an interview in Montevideo. "Investment was welcomed."
VENEZUELA
Hugo Chavez's Jewish Problem
I feel safe, the Russians may be coming to Venezuela and other nutty revolutionary stories
Chavez eyes Moscow alliance to guard against U.S. – by Mansur Mirovalev
Hugo and Juan Carlos kiss and make up; bump included?
Denuncian que Chávez financia a terroristas de ETA, FARC, Hamas y Hezbola
Venezuela, Belarus tighten oil ties
Chavez spent $33 billion to influence neighbors
IMMIGRATION
Sanctuary For Citizens
AMERICAN POLITICS
Cuba, Sharpton and the Huffington Post
Obama Caught Stealing Ideas From Cuban Communist Regime
HUMOR
In Spanish,

Special thanks to the Baron, Eneas, Larwyn, Maggie, and Siggy.