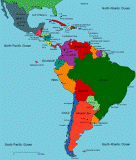 Welcome to the Carnival of Latin America and the Caribbean. If you would like your posts included, please email me: faustaw2 "at" gmail "dot" com.
The big news of the year so far is the rescue by the Colombian military of the FARC's four most valuable hostages: French-Colombian politician Ingrid Betancourt, Americans Thomas Howes, Keith Stansell and Marc Gonsalves, and eleven Colombian officers and NCOs, including the courageous Lt. Malagon who remained unbroken after ten years of captivity.
ARGENTINA
Chavez tied to Argentine bribe scandal coverup
Bolivian president Evo Morales's administration is tottering, and so was he when getting off the plane in Tucuman: No red carpet for Evo at Argentina's Mercosur summit
Argentina's War on Farmers Raises Food Prices Around the World
BOLIVIA
¿Alguien entiende a la Democracia de Bolivia o de Evo Morales? La oposición gana la Prefectura de Chuquisaca.
UK Navy commandos seize huge cocaine shipment; among them, Prince William.
COLOMBIA
Chavez voodoo dolls on the streets of Colombia
Must-read insights: Reflections on 2 July's rescue
From the Colombian government website: Uribe apoya idea de Chávez de construir ferrocarril colombo-venezolano Uribe supports Chavez's idea of a Colombian-Venezuelan railway, with one line through the eastern plains tying into Ecuador, and another line by the Caribbean.
Kouchner: France paid no ransom for Betancourt Ingrid's liberation seen from Bogota: "The whole room was cheering"
Since the late 1990s, the NGO practice of dragging the military into court on allegations of human rights violations has destroyed the careers of some of the country's finest officers, even though most of these men were found innocent after years of proceedings. "Judicial warfare" turned out to be especially effective because under legislation pushed by Vermont Sen. Patrick Leahy, "credible" charges against officers put at risk U.S. military aid unless the accused was removed. The NGOs knew that they only had to point fingers to get rid of an effective leader and demoralize the ranks. Given this history, it's not surprising that the FARC thought a helicopter from an NGO was perfectly natural.
Video:
Colombia Rescues the FARC's Most Famous Hostage
Colombian Press on Betancourt Rescue
Is this truly a farewell to the revolution?
More on the hostage rescue
They're Home: Three American Hostages Rescued by Colombian Military
Rescued Americans feast on pizza, soda
COLOMBIA "ENTEBBE" LIBERATION DAY
Fallout from Colombian Hostage Rescue all Good
Israel Helped in FARC Hostage Rescue Operation
Now this is their kind of crisis
Planning for rescue included a seating chart
Video shows orderly hostage rescue become celebration
Comment at Just One Minute on Uribe & human rights.
Some more stuff about the Colombian FARC hostage rescue.
MSNBC host: Was the Colombia hostage rescue a sham designed to benefit McCain?
Speaking of which, a few links John McCain's trip to Colombia (Sen McCain had already left for Mexico when the rescue took place, unlike what this blogger states):
McCain lauds Bogota's fight against drug trafficking
McCain to tour Colombian drug control efforts
McCain Heads Today for Colombia, Where Adviser Has Long Had Ties
ECUADOR
Ecuador indulta 1,200 "mulas" y traficantes de drogas. Ecuador pardons 1,200 "mules" and drug traffickers
Ecuador drops visa requirement
Ecuador buys planes, radar for border
Ecuador is Unstable Because the Current Regime is Corrupt
HAITI
The UN says Things Not All That Bad in Haiti. How bad do they want them to be?
JAMAICA
Sick transit: The murder of an anti-corruption campaigner
MEXICO
Markets for the poor in Mexico, with video:
McCain knits trade, security issues
PANAMA
Greenback Is a Reason to Rejoice in Panama
PARAGUAY
James Cason, Ambassador, Paraguay Singing Sensation

PUERTO RICO
Via Sam, Theo Spark
Pfc. Robert Camocho, of Yabucoa, Puerto Rico, Co. B., 2-6th Inf. Regt., scans a simulated IED lane while training at Camp Buehring, Kuwait. (U.S. Army photo by Pfc. Michael Schuch)
VENEZUELA
Hugo Chavez's Venezuela 'supplies half of Britain's cocaine'
Socialist Cities. More at the Washington Post's Chávez's 'Socialist City' Rises
First of Several Grand Projects in Venezuela Reflects Leader's Monopoly on Big Decisions
U.S. ties Caracas to Hezbollah aid
Freezes assets of envoy, businessman
Iran and Venezuela agree on cultural ties
Via Irish Spy, Testimony places Chávez in scandal
According to court documents, Carlos Kauffman told the FBI that lawyer Moisés Maionica assured him, 'President Chávez was involved' in Venezuela's 'briefcase scandal.'
Venezuela's Chavez Implicated in Argentine Scandal
Fears grow for Venezuelan banks
US imports less oil from Venezuela
When all the clowns in Venezuela want to run the circus
Chávez's Continental Strategy in Tatters
Army unrest grows over Chavez reforms Fotos del camion volteado en el desfile del 5 de Julio. I'm posting on this in today.
US ELECTION
Benign Neglect? by Alvaro Vargas Llosa
Parsing–but not quite praising–Obama's Latin America policies.
Eight Questions on Latin America for John McCain
McCain in Colombia: don't embody "Bush's third term" in Latin America
SOCIETY
You and your people
IN SPANISH
Jaime Bayly gives the best political commentary on his show. Here's what he had to say on the hostages, via Noticias 24:
Part 1

Part 2

Part 3

Prior posts and roundups on the hostage rescue:
One side benefit of the Colombian hostage rescue: No Alo Presidente!
The Colombian hostage rescue: Aftermath
The Colombian hostage rescue video
"Hostage rescue is happy coincidence for McCain in Colombia…"
BREAKING NEWS: INGRID BETANCOURT RESCUED
Special thanks to Eneas, Larwyn, Maggie, Sam, and Siggy..