I'm very glad to learn that Sen. McCain has good taste in footwear:
James Joyner (who also has good taste in shoes, at least on the occasions when we've met) posted John McCain Wears Nice Shoes
The flack department at HuffPo emails to tout Isabel Wilkinson's post, "A Week In John McCain's Shoes — His $520 Ferragamo Loafers, That Is." It documents, in extensive detail, McCain's wearing of a pair of black calfskin Salvatore Ferragamo 'Pregiato' Moccasins, which retail at Nieman Marcus for $520.
Here's a photo: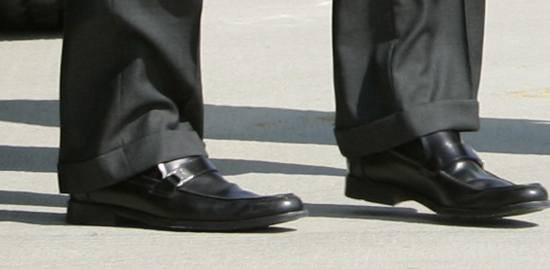 Nice. Very nice.
Isabel's in a lather that McCain's wearing Italian shoes as opposed to American, as if this was earth-shattering news. But – as I've said before – in my experience, having someone find fault with you because your shoes are of too high a quality is a sure sign of envy on their part.
They way I see it, any individual has the right to purchase the kind of shoes he or she best feels like wearing (some of us believe that, if the shoe fits, buy it!), and in a capitalist society where we have the opportunity to purchase the best quality goods the world has to offer, Sen. McCain gets kuddos for his excellent taste.
I'm Fausta Wertz and I approve this message.
(If you may recall, liberals were criticizing Fred Thompson's Gucci or were they Ferragamos, too? – size 13 – shoes last year. What's the matter with this people?)
UPDATE
Forbes has the Connoisseur's Guide to The Best Men's Shoes.
Welcome, Atlas readers.
Update
My friend Maggie points out that McCain's shoes are well-used, and resoled.