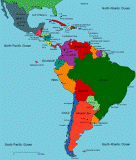 Welcome to the Carnival of Latin America and the Caribbean. If you would like your posts included, please email me: faustaw2 "at" gmail "dot" com.
The big stories this week, all of which went mostly unnoticed:
On the same week that Chavez was supposedly telling the FARC to lay down their arms, Venezuelan journalist Patricia Poleo reported that Venezuelans of Arab ancestry are being recruited under the auspices of Tarek el Ayssami, Venezuela's vice-Minister of the Interior, for combat training in Hezbollah camps in South Lebanon. Here is my translation.
Chavez's buddy Rafael Correa of Ecuador apparently tried to create a distraction by claiming an assasination plot. Meanwhile, Ecuador didn't like that Interpol authenticated the FARC files, so they are trying to get the Interpol boss fired (see links under ECUADOR below).
Spain extradited to the USA a Syrian-born arms dealer who had been supplying the FARC with weapons. He was a long-time resident of Spain and was caught by a DEA sting operation. Prairie Pundit has the details.
LATIN AMERICA
Syrian in FARC sting extradited to the US
Spain Delivers Syrian Arms Dealer to U.S.
Oil prices: Who are the culprits?
ARGENTINA
In Argentina, Che Guevara Finally Gets More Than a Lousy T-Shirt: Rebel's Birthplace Unveils a Statue of Him As It Reconsiders His Complex Legacy
Hocus-pocus: Argentina's way with sums
The real-world consequences of producing unreal inflation numbers
RISING inflation is causing headaches for central bankers across the world. But it seems that Argentina's monetary policymakers will be spared such concerns, thanks to the country's updated consumer price index, which came into force on June 10th. According to the new methodology, every time a product's price rises too sharply, it will simply be removed from the index on the ground that consumers will be deterred by the expense and switch to other goods. It came as little surprise, therefore, when the government announced the official inflation figure for May to be a mere 0.6%, while virtually all independent estimates topped 1%
BOLIVIA
Plight of Bolivia's child miners
BRAZIL
Armed robbers steal Picasso prints in Brazil
COLOMBIA
Uribe Says He Is Not Angry With Pelosi For Stabbing Him In the Back
Via Poor But Happy, Alvaro Uribe: Colombia's Peacemaker
CUBA
High-speed escape: The number of Cubans trying to smuggle their way into America is the highest it has been for more than a decade. Babalu has a prominent example: If at first you don't succeed…
DOMINICAN REPUBLIC
How minor league Latin players adjust to life in America
ECUADOR
INTERPOL reaffirms key findings of its examination of seized FARC computers in response to efforts to distort conclusions
Ecuadorian government officials caught in a lie
Ecuador's president says 'assassination' plot may be hoax
Correa resta importancia al supuesto atentado contra él
El presidente ecuatoriano cree que los cuatro detenidos podrían ser "simples estafadores"
JAMAICA
Father's Day 2008
NICARAGUA
The UN Sinks to New Depths
It's said that the U.N. is only as good as its members. But putting a Nicaraguan dinosaur communist at the presidency of the General Assembly takes it all a step lower. Already, the America-bashing is back.
Ortega's presidency on shaky ground after Farc comments
PERU
Guanomania: Sr. de la Torre, I beg to differ!
PUERTO RICO
Obama's Clues to Wooing the Latino Vote
VENEZUELA
Hezbollah and Al Qaeda in Venezuela
¡EL EMPERADOR NO TIENE NINGUNA ROPA!
Review of the Hugo Chavez system, Version 6.0 beta
Hugo Chávez: Master tactician or failing bungler?
Latin America's self-styled Bolivarian hero may be losing his populist touch
The curious behavior of Hugo Chavez
FARC loses a booster Who needs FARC when you have Hezbollah???
Pedernales, or the limits of a revolution
PDVSA lags behind in payments to contractors
The powder keg that is Venezuela
TRAVEL
The Advantages of Taking Online Spanish Classes
Airline Credit Cards For Miles Rewards
ENTERTAINMENT
El pelo de Bayly: