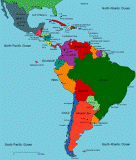 Welcome to the Carnival of Latin America and the Caribbean. If you would like your posts to be included, please email me: faustaw2 "at" gmail "dot" com.
The week's big stories: Chavez threatens to stop oil sales to EU, EU says he "misunderstood", and the US Treasury Department designated Venezuelan diplomat as a Hizbollah supporter (see links under Venezuela).
We discussed this and other Latin American topics with Monica Showalter of Investor's Business Daily in last Friday's podcast.
BLOG OF THE WEEK
Inside South America
LATIN AMERICA
LAC news for 17 June
ARGENTINA
La Plaza del Amor: The Kirchners
Argentina's farm dispute: Cristina's climbdown: Calling Congress back to life
Para ustedes que siempre quisieron…
BOLIVIA
Bolivian Tensions, Part 3
BRAZIL
Brazil's IPO Rush Hits Rough Patch
CHILE
A whale of a week ahead for Chile
COLOMBIA
Prince of Thieves
The unstoppable crop: A big rise in coca in Colombia
COSTA RICA
Travel: Costa Rica Vacation – Arenal Volcano!
CUBA
Another sad day for the plight of Cuba's political prisoners
What we didn't know about the Cuban Missile Crisis
ECUADOR
Sorry, Che, we blew it
La HRF Responde a Acusaciones del Presidente Correa y Declara a Guadalupe Llori como Prisionera Política del Gobierno del Ecuador
Bayly (in Spanish): Las dos viudas de [Raul] Reyes
Chavez wants to work with next US leader: We ask – WHAT AS? Montaner Declares Ecuador has No Compass
MEXICO
Deadly stampede at Mexico disco
A Wary Friendship: Amid bad temper and wounded pride, Mexico and the United States inch towards compromise on a plan to boost the fight against drug crime
Welcome for US aid for Mexico's drug war
Travel: Ultimate Vacation Guide: Laguna Miramar – Mexico
NICARAGUA
Thwarting democracy in Nicaragua
Daniel Ortega Compara a los europeos con "moscas que se paran en la inmundicia" (compares Europeans to "flies that stand on filth").
Brrrr… Peru Declares Emergency — Record Cold Kills 61 Children & 5,000 Alpacas
PUERTO RICO
The Incredible Shrinking Airlines
They're cutting back flights, routes, and services. How business travelers can be prepared for the upheaval.
TRINIDAD
Freakonomics, Crime and Trinidad and Tobago
VENEZUELA
Venezuela 'taking control' of mines
US designates two Hezbollah operatives in Venezuela as terrorists
Treasury Moves on Hezbollah in Venezuela
US Treasury Dept: Venezuelan diplomat helped Hizbollah
CHAVEZ WILL BE BROUGHT BEFORE THE INTERNATIONAL CRIMINAL COURT, THE HAGUE
A funny way to beat inflation: Hugo Chavez invites the private sector to help him build socialism
Via American Sheepdogs blog, the town of Macon Georgia and a member of Americans for Peace salute Chavez
Chavez Guisonomics 101, part IV: Why did the Government stop the use of structured notes to buy a bank?
IMMIGRATION
Report: McCain calls for comprehensive immigration reform at private meeting with Hispanic Republicans? Update: In newspaper interview, too?
Border patrol seeks recruits in Salem: Career opportunities lure prospects in Northwest
ELECTION
Outraged Cuban Americans Protest Obama in Miami
ENTERTAINMENT
The perfect Cuba libre
Special thanks to Eneas, Larwyn, Maria, Monica and Siggy