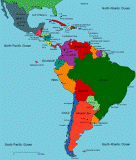 Welcome to the Carnival of Latin America and the Caribbean. If you would like to have your posts included in the Carnivals, please email me at: faustaw2 "at" gmail "dot" com.
The biggest story this week: Hillary Clinton's campaign and victory in Puerto Rico. However, a story that will affect the Caribbean more directly and immediately is the airlines' cancellation of flights serving the Caribbean. The BBC Radio Caribbean reports that American Airlines' schedule reduction will heavily affect the Caribbean, including 400 jobs cut in Puerto Rico. Officials from Caribbean nations will be meeting in San Juan later this month to discuss this problem.
LATIN AMERICA
Country Reports on Terrorism 2007: Western Hemisphere Overview – I, from already published sources.
Bull Connor and Stalin worship
South American defence: Speak fraternally but carry a stick
Is there a new arms race—or just overdue retooling of armies?
ARGENTINA
Protesta ante la embajada Argentina en Washington DC
Deadlock: Angry farmers v an obstinate president
How to Be Barbie for a Day: The Opening of the Casa de Barbie
About that $800,000 suitcase that Hugo Chavez was sending the Kirchners:
the Argentinian prosecutor wants Venezuela to extradite a former PDVSA executive and his son for their part on a money laundering investigation: Caso Antonini: la fiscal pidió la captura de dos venezolanos
Se trata del ex vice de PDVSA y su hijo, quienes esta semana no se presentaron a declarar ante el juez.
La historia de cómo llegó al país la valija del escándalo
Salió de la sede de Pdvsa y fue custodiada en el vuelo
BOLIVIA
Chump Change: Like Bill Richardson, Sen. Chris Dodd seems to be running for Barack Obama's secretary of state. Junketing to Bolivia on Wednesday, he vows "change" in hemispheric relations. We'd like to know what kind
EVO-WATCH: Evo Makes Really, Really Stupid Statements Part XVIIXIII
Campesinos afines a Morales anuncian bloqueos en rechazo a los referendos de autonomía
Lex Magazine of Santa Cruz, Bolivia, published an interview with Eneas Biglione on XXI century socialism and its influence on Bolivia's Future.
BRAZIL
Via Patrick Ruffini, Brazil: First blog falls victim to electoral law
South America to Have Single Currency in the Future, Lula Says
COLOMBIA
Trade vs Terror
At Iberian Notes:
The Colombian had tentative plans to murder anti-FARC Colombians living in Madrid, according to the computer files captured during the raid into Ecuador. Interpol confirms that the information is authentic. Can our local moonbat left please stop kissing the feet of this gang of kidnappers, extortionists, drug traffickers, and murderers, and the clownish Mafia don Chavez who bankrolls them?
After Sureshot: Without its veteran leader, the FARC's defeat looks to be only a matter of time
Venezuela: Hugo Chavez es el jefe de las FARC
Dems vs. Latin American Democracy
Congress is set to rebuke a democratic ally — and reward a tinpot dictator.
An encounter with Yoani Sanchez in Havana
The "Spirituality" of Communist Oppression
Cuban blogger censored by Raul Castro is accused of being paid by CIA
ECUADOR
Heroin Grows in Ecuador
MEXICO
Scenic Sinaloa: The Center of Mexico's Drug War
Ford to open new plant in Mexico
NICARAGUA
Latin America File: Ortega to testify of FARC links before National Assembly, US State Dept. monitors FSLN leader's terror connections
Crazy woman to move to Nicaragua; Kate waves good-bye
PERU
Mass grave uncovered in Peru
PUERTO RICO
Will Puerto Rico make or break Hillary?
VENEZUELA
The Enabling Bill: Students raise awareness of its dangers
The latest anti-terrorist weapon from the yanks, Makuna-Matata
Getting off Hugo Chavez's payroll
Ley del Sistema Nacional de Inteligencia y Contrainteligencia, propuesta por el macacón
The collapsing Venezuelan oil industry
Chavez boosting his loyalist candidates
Venezuela's opposition political parties have been unable to settle on which candidates will face President Hugo Chavez's candidates in key November elections.
Hugo Chavez cold-shoulders disciple claiming to be his son
PSUV Primary election from the ground
AMERICAN ELECTION
Victor Davis Hanson addresses one of Obama's gaffes:Europe to an American
"Since the Bush Administration launched a misguided war in Iraq, its policy in the Americas has been negligent toward our friends, ineffective with our adversaries, disinterested in the challenges that matter in peoples' lives, and incapable of advancing our interests in the region.
No wonder, then, that demagogues like Hugo Chavez have stepped into this vacuum."

But all that hardly seems either accurate or fair: (1) The "misguided" war was "launched" only after a majority ratification vote of the US Senate, including a majority of the Democratic Senators. (2) The current administration is currently desperately trying to craft a free-trade agreement with Colombia, and ensure that Nafta continues with Mexico-over protectionist sentiment of the sort voiced by Obama. (3) Hugo Chavez came on the scene well before the Bush administration, taking office in 1999 and then being reelected in 2000. His shredding of Venezuela's constitution and interference in Latin American politics were well under way during the last years of the Clinton administration.
Matt Sanchez writes for El Norte about Hillary.
20 Civil liberties laws every American should know.
ENTERTAINMENT
Capitalizing on Che Guevara's image
Special thanks to Kate, Maria, Larwyn, Maggie and Eneas.