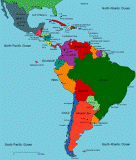 Welcome to the Carnival of Latin America and the Caribbean. If you would like your posts included in next week's Carnival, please email me: faustaw2 "at" gmail "dot" com.
The week's big story:
INTERPOL's forensic report on FARC computers and hardware seized by Colombia (via Feathers blog) verified the validity of the laptop, files and information found by Colombian forces in the Ecuadorian camp of the FARC's Raul Reyes. The information confirmed that Chavez is working with the FARC.
Interpol puts Chavez, Correa on the spot
The Interpol "day after", a press review of Chavez links with the FARc and his histrionic abilities
More links and commentary listed by country.
Website of the week
Noticias 24
ARGENTINA
Vegetarians Have A Stake in Buenos Aires
BELIZE
A $10 million mystery: What connects the deputy-chairman of the [UK's] Conservative Party with Hugo Chávez?
BRAZIL
Brazil Joins Front Rank Of New Economic Powers
Ghanaian drug baron arrested in Brazil
The Amazon
Marina marches off
Brazil's minister for the Amazon resigns in frustration
CHILE
Not so shiny
How an excess of political stability can get in the way of good government
COLOMBIA
Via Instapundit, The Case for Colombia
FARC Terror Group Opens German & Swiss Branches
It's A Small International Workers Paradise After All! ObamaInternationalistas Ayers/Jefe Chavez/FARC & Etc.
Interpol Confirms: US Democrat Was Secretly Working With FARC To Undermine Colombian Government
Colombia's paramilitaries
Free trade in thugs
Getting tougher with right-wing warlords
Colombia Ups Ante on Free Trade Agreement
Hugo: No US base in Colombia or I'll go to war
CUBA
Val Prieto's been blogging the CubaNostalgia conference. Go to Babalu Blog and scroll down. Here's some of the fun:

Cuba: US passed dissidents private funds.
ECUADOR
Ecuador: Indígenas rompen con Correa y amenazan con "levantamiento" – Noticias24.com, via HACER.
That'll be the day: Correa to quit if ties to FARC proven; also at Conterterrorism blog.
Las FARC contribuyeron con 100.000 dólares a la campaña de Rafael Correa
Chavez and Correa Must Go: FARC Materials Authentic
JAMAICA
Jamaica to benefit from multi-billion hotel projects
MEXICO
Mexico's Oiling Days Are Numbered
U.S. developing radiation detectors for the Mexican border; more at SF Gate.
Drug violence in Mexico
Can the army out-gun the drug lords?
Four top police officers, and more than a hundred people, are killed over the course of a single week in drug-related shootings
NICARAGUA
Crece la tension en una Nicaragua donde Ortega luce cada dia mas acorralado
PANAMA
The poor relation
A bid to inject new life into Panama's down-at-heel second city
PERU
Peruvian kid names US Presidents
PUERTO RICO
Losing racehorses killed in Puerto Rico
VENEZUELA
Venezuela Offered Aid to Colombian Rebels: Officials Served as Middlemen With Arms Dealers, Files Show
Computer Verified, Chavez Implicated
More Evidence of Chavez Terror Ties (also at my post).
Wash your mouth with soap and water
More on the FARC-Chavez Connection
Informe Otalvora: Chavez apoya movimientos separatistas latinoamericanos – por Edgar C. Otalvora
Hugo Chavez calls Interpol "clowns"
The bizarre virtual world of the Chavez Government
Chavez: Sorry About That 'Hitler' Thing
Grow Them Young, Pay Them Well – Anti-Chavistas, That Is
Another Terror Sponsor Obama Has Promised to Meet: Hugo Chavez
Venezuela seeks Latin American oil-for-food fund
Meeting with Americans in Venezuela, Chavez shows a kinder 'comandante'
Just what the world needs: "Venezuela seeks Latin American oil-for-food fund"
IMMIGRATION
Illegal in More Ways than One
Identity theft in America goes hand and hand with illegal immigration. (I'll be posting more on this article later today.)
U.S. Must rethink Latin America Relationship – by Richard Lapper
The assimilation factor, from The NY Sun.
Via Siggy, Companies targeted in federal marriage-for-citizenship sting
HUMOR
In Spanish – the fabulous Jaime Bayly, via Eneas
Bayly: reacción de Hugo Chávez ante Informe de Interpol 2

Special thanks to Larwyn, Eneas, Maria, Maggie and Laura.