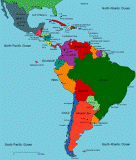 Welcome to the Carnival of Latin America and the Caribbean. If you would like your posts included in the Carnivals, please email me: faustaw2 "at" gmail "dot" com.
The big story: The FARC has set up undercover cells abroad in 17 countries.
Spanish newspaper El Pais published yesterday a report, Las FARC crean células clandestinas para su expansión internacional
Documentos del ordenador de Reyes revelan una red de apoyo en 17 países.
FARC creates clandestine cells for international expansion
Documents from Reyes's computer reveal a support network in 17 countries.
The article (in Spanish) states that the FARC, through its Coordinadora Continental Bolivariana (CCB) [Continental Bolivarian Coordination] network created in 2003, the FARC has developed a strategy that involves legal groups, clandestine cells and guerrilla training. These groups are closely associated with leftist organizations in seventeen countries, including Germany and Switzerland.
They opened four organizations in Mexico, managed by two cells that answer directly to the Secretariado, the FARC's leadership.
In the Dominican Republic, Nicaragua, Ecuador, Bolivia and Venezuela the FARC sponsor guerrillas through so-called "Biodiversity Forums", in addition to "official political-diplomatic relations" with Communist parties and the governments of Venezuela, Nicaragua and Ecuador.
Their aim, is
"Crear un gran Ejército revolucionario con el apoyo de masas para derrocar el sistema capitalista e instalar el socialismo".
"To create a great revolutionary Army with the support of the masses in order to destry the capitalist system and install socialism."
Al Jazeeera has a related Report: Farc set up cells abroad
The Revolutionary Armed Forces of Colombia has established undercover cells abroad in 17 countries, a Spanish newspaper says, quoting from documents found on the computer of Raul Reyes, a slain commander of the anti-government group.
All this information comes from the computers seized from Raul Reyes.
Both Interpol and US intelligence officials at the Office of the Director of National Intelligence have verified that the Reyes files are authentic.
Maite Rico of El Pais continues today their series on the FARC with this article, La guerrilla que pasó a ser mafia
Los documentos de Raúl Reyes reflejan la descomposición interna de las FARC The guerrilla that became a mafia: Raul Reyes's documents show the FARC's internal corrosion.
Among the details in today's article in addition to their narcotraffic involvement, the FARC is the world's largest planter of land mines, their ties with internations criminal organizations, and their revenues from kidnappings, among them half a million dollars revenue from kidnapping two Swiss executives from pharmaceutical company Novartis.
You can read the articles at El Pais in Spanish. The above is my translation and summary. Please credit me if you use it. Thank you.

——————————————————————-
Add Angela Merkel to the list of people Hugo has insulted:
Venezuela's Chavez slams Germany's Merkel comments
Venezuelan President Hugo Chavez on Sunday almost told German Chancellor Angela Merkel to go to hell, but stopped short of insulting the woman leader on Mother's Day.
Instead he called her a political descendant of Adolf Hitler and German fascism.
"Ms. Chancellor, you can go to …," he said, pausing for effect and eliciting giggles from the audience, a group of military officers, cabinet ministers and government officials. "Because she's a woman I won't say anything else."
Being insulted by Chavez is indeed a mark of honor.

——————————————————————-
CARNIVAL LINKS:
LATIN AMERICA
South America: Leaders Warn of Autonomy Attempts in Venezuela, Ecuador
Narco subs pose new challenge for US coast guards
BOLIVIA
Chavez Threatens To Intervene in Bolivia!
Bolivia's largest state votes on sweeping autonomy measure
Open letter to my Santa Cruz friends in Bolivia
BRAZIL
Amazon's future in delicate balance
CHILE
Hacker leaks 6m Chileans' records
COLOMBIA
New Colombia drug gangs wreak havoc
CUBA
The "Non-Judgmental" Michael Moore
Slave-labor tourism: Destinations: Varadero and Havana
DOMINICAN REPUBLIC
Two Cheers for Fernandez: The president heads for a third term
ECUADOR
Ecuador's Constitution: Going nowhere
Another leftist bogs down
Chavez and Correa Must Go: FARC Materials Authentic
MEXICO
Mexican Drug Cartels Making Audacious Pitch for Recruits
Democrats wrong on cutting Mexican anti-drug aid
Via Siggy, Believers flock to 'Narco Saint's' shrine
NICARAGUA
Nicaraguan Councils Stir Fear of Dictatorship
Poverty amid progress: A revolution in South America's fastest-growing economy is not reaching everyone
PUERTO RICO
Puerto Rico Presidential Primary roundup at American Taino
Obama Slaps the Puerto Ricans in the Face
VENEZUELA
A must-read: From FARC to Venezuela to…
Chavez sought Belarus help for Colombian rebels: report
Chavez Tried to Arm FARC with Help From Belarus
Chavez tried to get arms from Belarus for FARC
Chavez tried to arm FARC, El Pais reports
Via Maggie and Instapundit, Morning Bell: Why Are Liberals Actively Helping Terrorists?
Colby Cosh on Hugo Chavez and FARC: Meet the Western Hemisphere's first state sponsor of terrorism
A simple cure for Venezuela's inflation
ENTERTAINMENT
Time to dance to Imigrante latino by Hermanos Flores (Flores Brothers) from El Salvador: