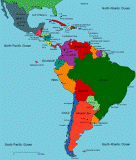 Welcome to the Carnival of Latin America and the Caribbean. If you would like your posts included in next week's Carnival, please email me: faustaw2 "at" gmail "dot" com.
The big story this week? Barack Obama's Communist ties, which may include the FARC. More thoughts on that at American Thinker.
Another important story just developing right now: Opposition victorious in Paraguay
Former Roman Catholic bishop Fernando Lugo has won Paraguay's presidential election, ending more than six decades of rule by the Colorado Party.
More at the link.
BLOG OF THE WEEK
LatinAmericaBlog
LATIN AMERICA
Democrats are shaping Latin America policy in dramatic ways
Do Border Walls Cause More Harm Than Good?
ARGENTINA
Argentine president orders probe into massive fires
BOLIVIA
Cloning Chavez
BRAZIL
Brazil warns FARC to stay out, but…
Two from the Economist: The Delights of Dullness
Oil: More Bounty. Could Brazil become as big an oil power as it is an agricultural one?
COLOMBIA
Via Roger, Travel writer tells newspaper he plagiarized, dealt drugs
The Uribe Temptation. America stiffs its best friend in Latin America. How much will he really care?
The case for Colombia: the Washington Post takes side for Colombia and against Venezuela
A Conversation With Alvaro Uribe
South America's Most Troubled Border
which brings us to Today's cartoon:
Via ECrisis:

CUBA
Remembering the Bay of Pigs: April 17, 1961
The sudden shock of cold water
ECUADOR
Banana Republic and Friends
JAMAICA
Dual But Unequal: The dual citizenship debate
MEXICO
Mexico's Unfinished Reform
President Calderón tackles the state oil monopoly — and the anti-democratic forces that support it.
PARAGUAY
Liberation Politics: The Colorado Party's 61-year grip on power may be at an end (see also top story above).
PERU
A strange tale out of Peru on bird flu.
PUERTO RICO
US Justice Department probes shipping practices to Puerto Rico
Pre-Raphaelites from Puerto Rico
VENEZUELA
Chavez helps out Haitians, continues to ignore Venezuelans
Hugo Chavez Supporter Bundled $50,000 Donation For Barack Obama
Venezuela is now the biggest importer of foreign weapons in South America, and ninth world-wide
Caracas is more dangerous than Baghdad
A First Nations chief from southern Manitoba is asking Venezuelan President Hugo Chavez for $1 million to fight for pipeline royalties.
Chavez helps out Haitians, continues to ignore Venezuelans
Errors, Lies and Manipulations on education in the times of Chavez and his brother