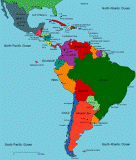 Welcome to the Carnival of Latin America and the Caribbean.
The big story: Nancy Pelosi throws Colombia under the bus by postponing a vote on the Colombia Free Trade Agreement. The message Pelosi has sent the world is that in America, the only superpower in the world, political squabbles take precedence over security interests. By doing so, Nancy Pelosi has covered herself in a cloak of shame and infamy. Unfortunately for us, everybody in the hemisphere will have to pay the consequences. Scroll down for all the links and roundup on the story.
Another small big story, Bill Clinton went to Puerto Rico to woo the underwhelming crowds in preparation for the June 1 Democrat primary.
LATIN AMERICA
A Coming Test of Virtue
Once a byword for financial busts, Latin America has so far escaped this credit crunch unscathed. But for how much longer?
ARGENTINA
Argentina's beef with its farmers
BOLIVIA
ETA operating in Bolivia
Bolivia using star of David in new ID cards Branding Bolivian Jews
BRAZIL
Brazil reduces its dependence on foreign…condoms
CHILE
Via Gates of Vienna, Chile: Palestinian refugees arrive to warm welcome
COLOMBIA
To free trade or not to free trade with Colombia?
Pelosi's War
Drop Dead, Colombia
Democratic Speaker Nancy Pelosi blocks a trade deal with America's closest South American ally
Edward Schumacher-Matos
SwordsCrossed
Red State
Is Hillary Running on Colombian Cash?
WSJ
Colombia's Plata Says Rejecting Trade Accord Same as Sanctions
National Review
Pelosi's bad faith
Obama: Trade with Cuba- Good… Trade with Colombia- Bad

A dark day in history: Nancy hands out 'the Chavez Rule'
Democrats' lose-lose strategy in Colombia
Hillary vs the Colombia Free Trade Agreement
Pelosi plays politics with Colombia trade deal
ECUADOR
Pay Pals of Soros's Barack Obama Take Center Court in Ecuador's Specious Claims: Undermine Foreign Policy and Rule of Law
$16 billion environmental lawsuit tests Chevron
HAITI
After Protests, Haitian Leader Announces Rice Subsidies
MEXICO
Government Cracks Down On Illegal Immigrants
Mexico's energy reform: Regeneration. Felipe Calderon sends a modest plan to Congress, which girds for battle
Vodka wars:
The Absolut Mexico kerfuffle through the prism of history
A toast to Skyy Vodka, the beverage of anti-reconquistas
Via Instapundit, SKYY® Vodka, Made in the USA, Proudly Supports Treaty of Guadalupe Hidalgo
NICARAGUA
Ortega's winning ways showing through
PERU
Rumble in the jungle: How barefaced capitalism can help save the Amazonian rainforest
PUERTO RICO
Governor's legal fight fuels the turmoil in Puerto Rico. Campaign-finance charges dog Nov. re-election chances
Bill Clinton to Puerto Rico: 'We Need You'
VENEZUELA
The Danilo Anderson case collapses: who is going to pay for ALL the wasted lives?
If it is Wednesday it must be Chavez' day to nationalize steel
FACTBOX: Venezuela's nationalizations under Hugo Chavez
Hugo Chavez's Submarines of the Caribbean
Chavez pitches Africa on the Nationalizing the Oil Industry
Strategic Move: Hugo Chávez seeks to nationalise the cement and steel industries and his armed forces are now occupying 32 sugar plantations
Podcast:
I was a guest at Mid Stream Radio and talked about Venezuela