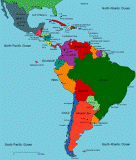 Welcome to the Spring Daylight Savings Time edition of the Carnival of Latin America and the Caribbean. If you would like your links included in the Carnival, please email me the link: faustaw "at" yahoo "dot" com.
The hot news of the week was Chavez's threatened war with Colombia, a crisis which, in typical Latin American fashion, was neatly wrapped on Friday afternoon, in time for a swim and a nice dinner at the Dominican Republic. Chavez has resumed diplomatic relations with Colombia, thus being able to continue importing food to ease food shortages arising Chavez's price controls.
The real news (as Austin Bay said) is Colombia's successful war against the FARC.
I recommend to all my readers this must-read from The Economist: On the warpath: Colombia is moving closer to breaking the FARC -unless Venezuela stops it
The posts and articles below are in addition to the posts I included on March 5 and 4.
Latin America and the US elections
Latinos Seek Citizenship in Time for Voting
LATIN AMERICA
Thugs, demogogues and Latin America
S. American Leaders Resolve Crisis
BOLIVIA
Lynching, Communal Justice, and Bolivia's New Constitution
4 Provinces Reject Court Ruling On Autonomy Referendums
BRAZIL
Betting the fazenda
COLOMBIA
Presidentes Uribe, Chavez, Ortega y Correa se aprietan la mano y alivian grave crisis diplomática Presidents Uribe (Colombia), Chavez (Venezuela), Ortega (Nicaragua) and Correa (Ecuador) shake hands and ease the grave diplomatic crisis.
Grand Master of Masons of Venezuela Murdered in Kidnapping Attempt
La ultima carta de 'Raúl Reyes' a las Farc
Gobiernos auspiciadores del terrorismo
Fighting FARC: On Strategy and Satellite Phones
Colombia offering a democratic alternative to Chavez
Despite setbacks, FARC far from out
NRO editorial Uribe!
Gruesome End… FARC Saws Off Leader's Hand After Assassination
Terrorists, Marxists, Leftists and the Democrats
Rescues in Afghanistan, sitting out elections and border troubles in Colombia
Alvaro Uribe keeps outchavezing Hugo Chavez
El Carcelero, via No pasaran
Colombia Is Criticized For Raid Into Ecuador
CUBA
Pluck and luck save smuggled photos
Statement of the Municipalities of Cuba and Human Rights
PDF file: De la mesa de trabajo de Martha Beatriz Roque
Cuba's underground internet rebellion
ECUADOR
Documents show FARC ties to Venezuela, Ecuador
Real Crisis in Andes Escalates: Democracy and Courage Shot in the Back Once Again by Latins
HONDURAS
Gunmen disguised as police kill 8 in Honduras
Massacre at billiards hall; effort under way to halt wave of violence
MEXICO
Wrong about Mexico
Mexican police net huge weapons cache in Tijuana
NICARAGUA
Nicaragua breaks diplomatic relations with Colombia
PANAMA
Panama Caught up in FARC Crisis
PUERTO RICO
Desperation and the Puerto Rico primary
Via Maria, Scrutiny for Puerto Rico Over Animal Treatment
TRINIDAD
T&T Jazz Festival begins
VENEZUELA
Via Siggy, Allies of Terrorism
The presidents of Venezuela and Ecuador are revealed as backers of the criminals who fight Colombia's democracy.
Venezuela pleads guilty in a cash case
Venezuela reopening embassy in Colombia
The kind of war we're going to have…
Venezuela's not-show show of force
(Fotos) En camiones van los tanques
Via Instapundit Does Hugo Chavez help the poor?
The American Friends of Hugo Chavez
Incidente fronterizo entre la DISIP, GN y habitantes de Paraguachon
No sooner did the army get to the area that the soldiers started calling in sick: Avalancha de peticiones de baja y permisos médicos en la FAN
Must-read (in Spanish) El Tiempo's special supplement on the contents of Reyes's computer
Baduel le dijo que no (for background on Baduel, see my Dec. 4, 2007 post)
Via Maggie's Farm, Ricochet in the Andes
The Corruption of Democracy in Venezuela
FARC ships through Venezuela to Guinea-Bissau in West Africa to Europe
Special thanks to Larwyn, Maggie, Maria, Siggy, Alek and Wretchard