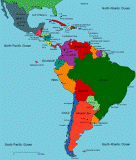 Welcome to the Saint Patrick's Day Edition of the Carnival of Latin America and the Caribbean. Starting the week in a festive mode, today's big story is the concert at the Venezuela-Colombia border.
Juanes, other stars stage concert for peace on Colombian-Venezuelan border
Tens of thousands of Colombians and Venezuelans flocked to a border bridge on Sunday for a free concert that Grammy-winning rocker Juanes organized to help heal the worst crisis in Andean relations in decades.

Held atop the Simon Bolivar bridge connecting the northeastern Colombian town of Cucuta with San Antonio in Venezuela, the show also featured Colombian singer Carlos Vives, Dominican Juan Luis Guerra and Spain's Miguel Bose and Alejandro Sanz on the playbill.
As you may recall, Alejandro Sanz had cancelled a concert in Venezuela due to pressure from Chavistas.
The BBC has more

If you would like your posts included in the Monday Carnivals, please email me the link: faustaw "at" yahoo "dot" com.
LATIN AMERICA
Rice Urges South America To Keep Terrorists Out
Bush and Uribe v. Chavez and Correa
U.S.: An unreliable ally
Center for Strategic and International Studies (pdf file) Tension in the Andes
BOLIVIA
Bolivia court suspends constitution vote
BRAZIL
Portrait In Red: One of the world's most successful AIDS programmes faces new problems
CHILE
Chile: Palestinians look for a new future in South America
COLOMBIA
Bush to push vote on Colombian FTA?
Colombia Has Earned Its Trade Pact
Peace in our time, on the box, But it may well prove to be as phoney as the war
FARC looking for anti-aircraft missiles
Chiquita Sued By U.S. Families for Support of the FARC
COSTA RICA
Costa Rica finds FARC funds
CUBA
Babalu Blog has been on the story about the Defecting Cuban soccer players
7 Cuban soccer players abandon free health care
La amnesia del Vaticano by Maria Werlau of Cuba Archive
Cuba Lifts Ban on Computers, Other Electronics
Wall Street Journal reports Cuban link to FARC
Center for Security Policy's study (PDF file) Implications of the recent Change in Cuban Leadership
DOMINICA
Dominica: The Caribbean's Next 'Terror Island'?
DOMINICAN REPUBLIC
La lección de diplomacia de Alvaro Uribe ante el 'pobre patán' de Rafael Correa
ECUADOR
Introducing U.S. Congressional Directives Resolving to Tell the Truth about Chavez's FARC Cartels
Correa calls on to establish new OAS without U.S. participation
JAMAICA
Crown and Anchor: The staying power of the British monarchy in its Caribbean ex-colonies
MEXICO
The Mexican milk problem
Opposition Party May Tone Down Radical Voice
Canuck Cook Caged in Guadalajara
Mexico police capture top Tijuana hitman
PERU
Peru meteorite may rewrite rules
PUERTO RICO
Fortuno Wins Puerto Rico Primary
TRINIDAD TOBAGO
Joseph: American paid $55m for police reform
VENEZUELA
Hugo's own Emperor's Club
Sad acts of anarchy surface in daily life in confrontational Venezuela
Le discours belliqueux du Lt. Col. Chavez permet de resserrer les rangs et de disqualifier les opposants, aussitôt accusés de trahison de la patrie
An important week for Hugo Chavez
The American Friends of Hugo Chavez
Pedro M. Burrelli:
What do we do now with Mr. Chavez?
Smuggling is thriving despite Chávez policies
One of President Hugo Chávez's key efforts to prevent smuggling and put food on the shelves in western Venezuela is failing.
US considering adding Venezuela to states sponsoring terrorism list Venezuela & the terror supporters list: Pros and cons
Gobiernos auspiciadores de terrorismo
PODCAST
Raices de Esperanza interview
Special thanks to Maggie, Larry, Larwyn, Siggy, Armando and Eneas