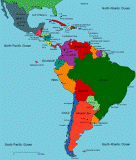 Welcome to the Carnival of Latin America and the Caribbean.
If you would like your posts to be included in the Carnivals, please email me faustaw2 "at" gmail "dot" com.
This week's big stories:
Colombia seizes thirty kilos of depleted uranium from the FARC. The American media doesn't seem to have caught on that this is news.
Democrat Congressman James McGovern was found to have ties with the FARC.
Also in US and Latin American news, governor of Puerto Rico Anibal Acevedo was been indicted, booked, and released without bail on nineteen charges of conspiracy, false statements and violations of various campaign finance laws, following an FBI investigation in Puerto Rico and Philadelphia. Acevedo was one of Obama's superdelegates. The Democrats have scheduled the Puerto Rico primary for June 1.
LATIN AMERICA
Latin America File: Chavez, Ortega, Lula challenge US power in hemisphere through formation of new military pact, ALBA Defense Council
Media Terrorism on LatAm Agenda
Counterterrorism Blog Panel: Disclosures From FARC Computer About Ecuador and Venezuela PDF file
ARGENTINA
The Kirchners v the farmers: The countryside's beef about export taxes becomes the new government's first political test
UPDATE
Via Siggy, Tax Rebellion in Argentina
BRAZIL
Immigrants Chase the Brazilian Dream
Feverish in Rio: The dengue mosquito exposes public-health laxity
CARIBBEAN
The Canadian connection: Providing banking, business and policemen
Fighting the War on Terror in the Caribbean and Central America
CHILE
Before '73 Coup, Chile Tried to Find the Right Software for Socialism
COLOMBIA
Colombia Announces Find of 66 Pounds of Uranium It Says Linked to FARC
U.S. 'concerned' about FARC uranium
An alleged rebel cache of uranium is raising concern in Washington — and questions about why the rebels had the radioactive metal
FARC Uranium May Be Depleted, But It's Still Nuclear Material
Via American Digest A FARC Fan's Notes
COLOMBIA SEIZES FARC TERRORIST URANIUM STASH!
Colombia Probes FARC Ties to Uranium Seized in Bogota
Mario Ballesteros, head of the state-run geology institute Ingeominas, said a study of the uranium, its possible uses and health risk would be presented on Friday, EFE news agency reported today.

"The FARC may have wanted this material to build a stronger rocket that destroys the president or a minister's armored car, not create a weapon of mass destruction," said Cesar Restrepo, from Bogota's Security and Democracy Foundation.

Padilla said informants he didn't identify, who are close to an alleged arms supplier Reyes called "Belisario," led the military to the uranium. Authorities are investigating the origin of the material, he said.

Embossed on the two metal lodes, in English, was the warning "Caution: Radioactive Material. Depleted Uranium," according to the military's video.
DU Dud: The Silver Lining to FARC's Uranium
Rep McGovern Denies Being In Bed With FARC (The Sun Chronicle)
The FARC Jones Boy & Congressman James McGovern
Is the Biggest Bombshell on the FARC Computer Yet to Be Revealed?
Colombia: Venezuela supported rebel group, claims academic
COSTA RICA
FARC Cash Seized in Costa Rica Linked to Iran and Venezuela
CUBA
Cubans Can Now Have Cell Phones; Problem Is, Nobody Can Afford Them
Cell Phones Don't Replace Freedoms
ECUADOR
No End In Sight To Andean Conflict
On Ecuador's border, FARC rebels visit often
Ecuador: A push to eliminate constiutional protections for gays and lesbians
Sedition is…. as Sedition Does: Liars and Manipulators Abetting Murderers and Terrorists
MEXICO
Sending In the Cavalry
NICARAGUA
Freedom of expression threatened in Nicaragua
PUERTO RICO
AG Announces Crackdown on Corrupt Politicians, Democratic Party Immediately Disbands
Puerto Rico, New Jersey, and those busted governors
VENEZUELA
Is the Biggest Bombshell on the FARC Computer Yet to Be Revealed?
Files Suggest Venezuela Bid to Aid Colombia Rebels, which also reveals that a Colombian agent was killed by the FARC after she was found to have microchips implanted in her body.
Instapundit, The Bolivarian republic of Massachusetts
The American Friends of Hugo Chavez
Andres Oppenheimer: Media wars in Venezuela
Chavez behind the Andean troubles
From those who brought you the Tascon List: official racism in Venezuela
Mision conuco, higher education version
The Verbal Diarreah Starts Again
Falling oil production a challenge for Venezuelan President Hugo Chavez
PODCAST
Matthew Vadum, of Capital Research Center was my podcast guest on March 25.
ENTERTAINMENT
Salsa dancing: Selling rhythm to the world
Special thanks to Maggie, Siggy, Larwin and Maria.