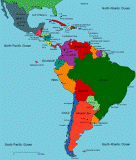 Welcome to the Presidents' Day Edition of the Carnival of Latin America and the Caribbean.
Today's big news: Venezuela seizes 1/2 ton milk and chicken from clinic, thereby showing how price controls don't work and encourage hoarding and black markets, and continuing Hugo's fight against private health care. The news was listed under the "Oddly Enough" category but when it comes to Venezuela, it's never oddly enough: after nationalizing the oil industry, Chavez is threatening to create a tax on windfall oil profits.
As I said, it's never oddly enough when it comes to Hugo.
If you would like your posts included in the Monday carnivals, please email me the link: faustaw "at" yahoo "dot" com.
LATIN AMERICA
Investor's Business Daily editorials on Latin America and Caribbean are a must-read.
Via Instapundit, Why does Obama hate NAFTA?
ARGENTINA
Party time: Nelson Kirchner tries to rule Peronism
BELIZE
The squid and the whales
BRAZIL
Christ statue struck by lightning
CHILE
Chile to continue working with Peru despite border dispute
Felipe Aguilar puts Chile on golfing map
COLOMBIA
War of the roses
Cuba demands US gives back Guantanamo Bay
Cuba to send 4 jailed dissidents into exile
Via the Cuba Archive, Crosses honor Castro's foes
Old dirt that's new news to me: Castro, Clinton, Cabrera, Mannerud
DOMINICA
Dominica, PetroCaribe, and Chavez
ECUADOR
ALLIANCE for Progress only Boosts State Kleptocrats and Marxists
MEXICO
The Mexican President Visits America
Tom Tancredo's letter to Felipe Calderon
Mexico's National Human Rights Commission: Big, expensive and weirdly spineless
Blast near Mexico City police HQ
Mexico arrests top drugs suspect
NICARAGUA
Nicaraguan leader calls Obama's campaign 'revolutionary'
Obama gets another endorsement
PERU
Peru's hotel industry: Killing the tourism goose
PUERTO RICO
Via Instapundit, P.R. Firm: San Juan For The Money, Two For The Show
VENEZUELA
Crude Chavez
The unanimity against Tascon: Stalinism in Venezuela
Two posts I missed last week: On SEMANA's Expose of "Chavez's own Montesinos": War by ALL Other Means?, and On Iran's Increasing Influence in Latin America
George Washington Statue Bombed in Caracas
CBS's Rodriguez Asks Chavez's Ex-Wife: 'Is He a Communist?' and Marisabel on CBS. Too bad Rodriguez doesn't read my blog or he would have known that Chavez officially declared himself a Communist a year ago.
US shrugs off Chavez threat over oil
Your word for the day, Mister Chavez, is 'Fungible'
Paper tiger
In Spanish: Violaron el blog de Alexis Marrero. Lo amenazan de muerte Blogger Alexis Marrero gets death threats while his blog is hacked.
Reaction and revolution: Students are the revolution
Two of my posts, Obama wants to talk to Chavez and in the podcast (you can listen to the podcast here).
ENTERTAINMENT
Meet the low-budget movie star
And a beautiful rendition of Vete de mi