UPDATE
This Ain't Hell But You Can See it From Here has photos and video of the march in Washington, DC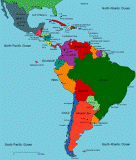 Welcome to the Carnival of Latin America and the Caribbean. Today is International March Against the FARC Day (No mas FARC), and A Colombo-americana's Perspective has a list of all Meeting Points for No a las FARC demonstrations in Colombia, other countries in South America, and meeting points in Central America, the Caribbean, the US and Canada, Europe, Asia, Egypt, Australia and New Zealand. She explains in this post what it all means,
Timing is everything. It seems so simple and yet so complex, that an event could "sink or swim," as it were, solely based on the time at which it occurs. This perfectly explains why the movement, started on Facebook in the first days of 2008, has rapidly grown to a worldwide phenomenon in which many have joined the Colombian people and with a single voice will say today: NO MORE FARC.
Read every word.
The BBC explains the origins of the movement,
The protest was started on the social networking website Facebook by a 33-year-old engineer, Oscar Morales, from his home in Barranquilla on Colombia's Caribbean coast.

Over 250,000 Facebook users signed on, and the movement was taken up by newspapers and radio and television stations across the country.

The overall turnout for Monday's protests is expected to be in the millions, our correspondent says.
The one in our area will congregate in front of the UN building (46th and 1st) at noon today. For more information on this event, the contact is nomasfarcnewyork@gmail.com.
If you would like your links on Latin America to be included in the Monday carnivals, please email me by Sunday evening: faustaw "at" yahoo "dot" com.
LATIN AMERICA
Latin America 'falling off the map' in Davos
ARGENTINA
Argentine Union Says Inflation Outpaced Official Data
Lawyer admits being Venezuelan agent
With all the problems in Argentina, the government shows its priorities and decides to legislate on naming children – Cristina Kirchner, on naming children
BRAZIL
The Holocaust float at the Rio Carnival
Follow-up: Judge bans Holocaust-themed Rio Carnival float
BBC video report on Carnival Celebrations in Brazil
COLOMBIA
Uribe open to overseas observers in Colombia
GUYANA
Sun, sea and murder: Here, too, drug-trafficking is to blame

HAITI
Poor Haitians Resort to Eating Dirt
MEXICO
Marching as to war: Drug gangs ratchet up the violence in Mexico as judicial reform begins
Mexico Furious over German 'Finger in Butt' Hit
NICARAGUA
Moochers of the world, unite!
Nicaraguans wary of Chavez's largess
PUERTO RICO
Puerto Rico Teachers Delay Strike
URUGUAY
Acto en Montevideo contra las FARC
VENEZUELA
This week's must-read article at the Observer/Guardian Revealed: Chavez role in cocaine trail to Europe
The Venezuelan connection for Europe's dope
Protein Wisdom, Feathers, Caracas Chronicles and Venezuela News and Views have links and commentary.
Ken Livingstone fails to register Venezuela Information Centre interest
What Chavez' Facebook page would look like, complete with 666 friends. If I could, I would throw a sheep at him!
This time Chavez went too "FARC"
Via Siggy, Will Venezuela Be Judenrein?
Via Irish Spy, MARK FALCOFF: GOOD NEWS FROM VENEZUELA
Chavez calls for anti-American army
Venezuela: President thanks Iran and suggests anti-U.S. army
Venezuela, the mouse that roared: Shoulder to shoulder with Hugo Chavez
Venezuelan bank hostage gang make getaway in ambulance
Colombia top drug thug killed in Venezuela
Since there's no milk in Venezuela, the Chavez government wants people to believe there's no milk anywhere in the world There is no milk in Alexandria, VA, USA
Reaction and Revolution: My very first White Hand
VIDEO
(In Spanish) Hugo Chavez endorses FARC Terrorism (after swearing on his mother he wouldn't):

Special thanks to Siggy, Kate, Maggie, Irish Spy, and Eneas for their support.
BLOGGING ABOUT THE CARNIVAL
A colombo-americana's perspective
Obi's Sister
Don't miss Gateway Pundit's post on Colombia