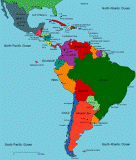 Welcome to the Carnival of Latin America and the Caribbean. Today's main story is the injunction granted to Exxon Mobil in US, UK and Dutch courts to freeze billions of dollars of Venezuelan oil assets to guarantee compensation if the International Centre for Settlement of Investment Disputes decides in favor of Exxon after Venezuela nationalized Exxon's Orinoco Belt oil field and the Cerro Negro heavy oil project.
For background information, please read Venezuela News and Views start here and scroll down for prior posts) and The Devil's Excrement.
I'm podcasting on the subject this afternoon at 2PM Eastern: Monica Showalter of Investor's Business Daily, and venezuelan blogger Alek Boyd of VCrisis will discuss the injuction and what it means for Venezuela.
I'll open chat by 1:45, and the call-in number is (646) 652-2639. Join us!

If you would like your links on Latin America to be included in the Monday carnivals, please email me by Sunday evening: faustaw "at" yahoo "dot" com.
LATIN AMERICA
Simón Bolívar: Time to liberate the Liberator
PDF file: Latin America: Challenges and Achievements
HACER's weekly roundup.
ARGENTINA
Investigacion Kirchner: Una fortuna inexplicable
BOLIVIA
Scholar says U.S. asked him to 'spy' in Bolivia
BRAZIL
Happy families: An anti-poverty scheme invented in Latin America is winning converts worldwide I
CHILE
Chile fights to stay top of class
The slow lane: Fallout from a botched transport reform
Chile—Birth Pangs of Citizenship
COLOMBIA
Slaying a monster in Colombia
HACER joins march for peace in Colombia
Facing down the FARC: Public sentiment turns against the hostage-takers
CUBA
"Ojalá pudiéramos viajar y ver el mundo real" Cuban youths pose tough questions in surprising video (h/t Irish Spy). Camilo Lopez Darias ve Inocencia extrema, Extreme innocence. Here is the video, via Kate:

The young man in the video is now under arrest.
Lundy, remembrance and oblivion
ECUADOR
Economic Freedoms Die under Correa and Chavez
NICARAGUA
An Iranian "base" in Central America
PUERTO RICO
Renewable energy from the deep ocean
EL SALVADOR
El Salvador Should Not Spurn God's Gift of Gold
VENEZUELA
Chavez in trouble in Venezuela
Desperado (also at HACER). See also Hugo Chavez en pie de guerra, along with the graphics
The truth about European Union election observers in Venezuela
Chavez Accuses U.S. of Drug, Arms Sales in Venezuela
TODAY'S (funny) VIDEO
In Spanish, via Babalu, whereby Fidel says a few bad words…

Share on Facebook