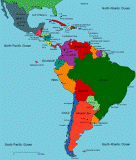 Welcome to the Carnival of Latin America and the Caribbean.
If you would like your posts included in the Monday Carnivals, please email me your links, faustaw "at" yahoo "dot" com.
Last week's big story was Castro's resignation. I did a huge roundup and follow=up, but Babalu did an excellent job covering the story. Babalu's Val Prieto was in our podcast.
Let's start with some humor:
Top Ten Reasons Fidel Castro Is Retiring
MEDIA:
New Spanish TV channel – online and totally free
BAHAMAS
How Castro's Exit will Affect Cuba and the Bahamas
BRAZIL
Raul prefers Lula over Hugo? Lula and McCain are on the same page
Whodunnit? A strange theft of oil and gas secrets
COLOMBIA
Betancourt: 6 Years As Colombian Captive
Big Labor Can't Handle the Truth About Colombia
No Mas Farc, by Mario Vargas Llosa (in Spanish)
Kouchner in Colombia gets told by Uribe
Colombia rebels get foothold in Venezuela
COSTA RICA
Costa Rican National Parks, and Costa Rican Food.
CUBA
Freed dissidents expose Castro's brutal regime
Perhaps Michael Moore could talk with these gentlemen
Attention Gitmo protesters, the only one torturing political prisoners on the Isle of Cuba is Castro
RAUL CASTRO'S LONG HISTORY OF CRIMES AGAINST HUMANITY
Ending Embargo Won't Free Cuba
MARK FALCOFF: CASTRO RAISES A TOAST
Castro Resigns! Sanctions Work!
Council on Foreign Relations: Manners Over Life?
By Tottenpundit, Golf courses will return to Cuba
Cuba's Phony Transition: Fidel Resigns, Raul Reigns, also at HACER
Castro's Legacy, the Economist's cover story.
La victoire des barbudos a réveillé en l'intelligentsia française une vieille passion française pour la révolution
Via Larwyn, Selective Ignorance
El cadáver insepulto de Fidel Castro
Statement on Cuba's Transition from Secretary Condoleezza Rice
Fidel Castro urges changes in U.S., not Cuba
Retired leader says democracy in Cuba would mean 'annexation' by U.S
CUBA LIBRE: NEXT STEP FOR ISLAND SHOULD BE DEMOCRACY
History will never absolve Castro
People Don't Improve What They Don't Own
ECUADOR
Correa is Truly Aligned in Every Sense with Chavez
MEXICO
Mexico under siege, via Real Clear Politics.
NICARAGUA
Ortega burps: "Castro is still the leader"
PARAGUAY
Mengele in Paraguay
On the jungle trail of the Nazi doctor. Via Meganpundit
Paraguay in a panic over yellow fever
PUERTO RICO
McCain gets Puerto Rico
Puerto Rico's Political Melodrama Plays On, With Its Governor in the Lead Role
London Times Story Urges Travel to Cuba Before 'Golden Era' Ends
TRINIDAD TOBAGO
Radical Islam in the Caribbean
VENEZUELA
The Bolivar obsession
Tragedy strikes one more time on Venezuelan air
Chavez Officially Merges with Iran
Rationing cards, another smart Chavista invention coming soon at a PDVAL market near you
An interesting series of events:
Los lodos que traen los polvos de Hugo Chávez, Estalla artefacto explosivo en sede de Fedecámaras – Un muerto, and Fuente: Carlos Arreaza director de PoliChacao
Exxon v PDVSA? Hugo Chavez v Venezuela actually
Special thanks to Siggy, Larwyn, Maggie, Maria and Elisa.
I started this Carnival with humor, and I'm ending it with humor: Yesterday Pat's Carnival featured the dancing Fidel:

UPDATE
Commenter Joated requested news on Guyana:
Guyana's crime challenge
Massacres cutting into Guyana tourism
Guyana struggling to cope with tragedy
I'll make sure to include Guyana news in all future carnivals.
Blogging about the Carnival
GM Roper