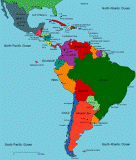 Welcome to the Carnival of Latin America and the Caribbean. This week's top stories are the two released FARC hostages, and the increasing anti-Semitism in Venezuela, but don't miss the Strategy Page article on submarines and the drug trade in Colombia.
If you would like your post(s) to be included in the Monday Carnivals, please email me by Sunday morning at faustaw "at" yahoo "dot" com. As you can see, I don't have a limit on the number of countries or the subject of the posts, as long as the posts are informative and well written on the subject of Latin America.
SPANISH-LANGUAGE WEBSITE OF THE WEEK
Martha Beatriz Roque Info
PODCAST
Val Prieto, Siggy and I had the pleasure of talking with Carlos Eire last Wednesday night.
LATIN AMERICA
The LatinAmericanist has an excellent daily roundup of headlines from Latin American countries.
ARGENTINA/VENEZUELA
Suitcase of Cash Tangles U.S. and 2 Latin Nations in Intrigue
ARUBA
Natalee Holloway: Mother of Former Suspect, Joran van der Sloot, Wants Investigation of Investigation
ARGENTINA
Italian Immigration to Argentina
Penguins and many other birds spill survive oil spill
BARBADOS
"Authentic"? Yes
Election fever peaks in Barbados
BOLIVIA
Bolivia: Energy profile
BRAZIL
Underwater oil discovery to transform Brazil into a major exporter
The granny from Ipanema So many more women on the beach than men
CHILE
The centre cannot hold Bachelet picks a new strongman
CUBA
AP Obit Paints Traitorous Ex-CIA Agent, Castro Apologist As Travel Agent
Traitor dies, victim of Cuban healthcare system
COLOMBIA
Drug Sub War Intensifies
The subs, made of fiberglass, are constructed by the drug gangs, using technicians and materials brought in for the purpose. This costs several hundred thousand dollars per boat. Which is not so bad when you consider that each voyage moves a cargo worth $100 million or more. The craft are from 50-80 feet in length, have a crew of three or four, and carry 3-10 tons of cocaine up the coast to Central America, or farther north.

These are not submarines in the true sense of the word, but "semi-submersibles". The fiberglass boats, powered by a diesel engine, have a small "conning tower" above the water, providing the crew, and engine, with fresh air, and permitting the crew to navigate the boat. A boat of this type is the only practical kind of "submarine" for drug smuggling. A real submarine would be much more difficult to build, although you can buy commercial subs for a million dollars or so. These, however, can carry only a few hundred pounds of cargo, and not for long distances.

The main problem with real subs is that they are not much more effective than the "semi-submersibles" that are coming out of Colombia (and even Europe). Submarines can only travel underwater, on battery power, for a short time. Otherwise, they are on the surface, or in a "semi-submersible" state, running on diesel power.

So the drug gangs had the right idea, but their "sub" was not stealthy enough to avoid detection all the time. However, it appears that these "semi-submersibles" do work, because the drug gangs keep using them. Most of them are apparently getting through. Delivery by sea is now the favored method for cocaine smugglers, because the United States has deployed military grade aircraft detection systems, and caught too many of the airborne drug shipments. The smugglers did their math, and realized that improvised "submarines" were a more cost-effective way to go.
Colombia's Uribe unmasks the FARC
Le "geste" des FARC confirme les relations étroites entre Hugo Chavez et les rebelles, qui disposent de centaines de camps de repli au Venezuela
L'ancien FARC déteste qu'on le mette dans le même sac que les "paramilitaires démobilisés"
Gloria Inmarcesible?
Bungle in the Jungle
FARC's 'Gift' To Hugo Chavez
Hugo and the FARC kiss and make up; Hugo sends helicopters
Freed Colombian hostage reveals ordeal
COSTA RICA
The Iguana Tease
CUBA
AP Obit Paints Traitorous Ex-CIA Agent, Castro Apologist As Travel Agent
Traitor dies, victim of Cuban healthcare system
En Cuba no hay judios, pero hay homosexuales
DOMINICAN REPUBLIC
purification installation at Cure Hospital in Santo Domingo
ECUADOR
Headlines: "IT'S THE LIES & FAKERY, STUPID"
Evidence of Correa's corruption
MEXICO
Mexico's Drug Related Abductions Now Showing Up In Phoenix Area
From last month: 12-6-7
Merida Initiative NOT Plan Mexico
NICARAGUA
The Heritage Foundation, on Daniel Ortega
Nicaragua's President Ortega: The Balancing Act After One Year
PANAMA
John McCain: Natural Born Citizen?
PARAGUAY
Rare birds at San Rafael National Park in Paraguay
PERU
Suffer the children Malnutrition amid growing plenty
PUERTO RICO
SCOTUS BLOG Analysis: Police, state sovereignty and the Constitution
Travel 2008: 33 hours from San Juan to Chicago
TRINIDAD TOBAGO
Trinidad's music pirates of the Caribbean
VENEZUELA
Hugo Chavez Knows Nothing About Economics, Part 2,843,971
A cynical Hugo Chavez tries to defend the undefendible
Chavez: the Colombian FARC is not a terrorist group
Better Yet, Call Them Activists
"Government Sponsored" Antisemitism Grows Under Chavez
VENEZUELA: JEW HATRED CHAVEZ STYLE
Venezuelan Jews Fear Growing Government Sponsored Anti-Semitism
VENEZUELA: US Neo-Cons Accuse Chavez of Anti-Semitism
Venezuela Is Facing A Mountain Of Problems And Crises . . .
A Chavez, Joe Kennedy and Oil Math
Why did Venezuela surrender to Chavez?
VIDEO
Whale watching in Los Cabos, Mexico

HUMOR
Not related to Latin America, but sent in for the Carnival Hillary Clinton denies steroid use. Please note that from now on I'll only post Latin America-related posts in the Carnival.

—————————————————————-
For more Carnival fun, visit
SheBlogs
Carnival hosted by Sex and the South.