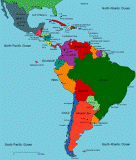 Welcome to the Carnival of Latin America and the Caribbean.
The ongoing maletagate case, where a suitcase full of Chavista money for the Argentinian Kirchner campaign was intercepted, continues to be at the top of the headlines. A Colombo-americana's perspective (who I had the pleasure of meeting yesterday) has stayed on top of the story and has the latest here.
Chavez continues to threaten Colombia, claiming that Colombia and the US are about to invade Venezuela (see more links under both countries), while he also threatens Guayana. If that weren't enough, he's seizing food shipments.
If you would like your links on Latin America to be included in the Monday carnivals, please email me by Sunday evening: faustaw "at" yahoo "dot" com.
VIDEO
Isabella Rossellini talks about La fiesta del chivo

WEBSITE OF THE WEEK
Caribbean News
LATIN AMERICA
Sweet and Sour
IMMIGRATION
"Hispanic panic""as Arizona immigration crackdown bites
Zogby: American Public Sees Latin America through Narrow Immigration Lens
UPCOMING CONFERENCE
Cumbre iberoamericana de Prensa en Burgos el 30 de enero
ARGENTINA
Stop all the clocks
BELIZE
For many Belizeans, UDP winning this election is not the ending but the beginning
Belizean Musician Andy Palacio: A Remembrance
National Geographic's Intelligent Travel has a section rating Caribbean Island destinations
BRAZIL
Wolf Pack: The survival of patronage politics
CHILE
Chile: Adventist media guru keeps country on communication edge
COLOMBIA
Colombia Hurled Into The Cold – with a kiss
Random musings on Colombia and Venezuela
Colombia refuses Chavez hostage efforts
Rice pushes Colombia free trade deal
Hugo Chavez, the key to political popularity
With An 80% Approval Rating Uribe Battles Democrats For Support
Hugo Chavez and the FARC boost Uribe's popularity
OUTRAGE!… Congressional Democrats Continue to Give Loyal US Ally Colombia the Shaft
Politicians Fear Colombia-Venezuela Military Face-Off
CUBA
Join Lech Walesa & Help Support the Cuban People
Havana's Martin Luther King Center Marks 20th Anniversary
ECUADOR
Ecuador Denies Letting FARC Leader Reyes Operate on Its Soil
GUYANA
Guyana deaths spark village anger
GUATEMALA
More from Intelligent Travel, Leave your heart in Guatemala
JAMAICA
Jamaican police report significant drop in drug mules
MEXICO
Tariffs and tortillas
Trade is not to blame for the poverty of Mexican farmers
NICARAGUA
Same As the Old Boss?
VENEZUELA
Arroz con leche
Don't miss this post: Milk is Milk
PETROLEOS DE VENEZUELA NOW ENGAGED IN MILK AND TUNA IMPORTS
Chavez Causes Exodus to Florida
The Chavez-FARC-Drug trafficking connection
Does Hugo Chavez's NPD (narcissistic personality disorder) have something to do with his taste for coca and his martyr behavior? and Night of the Living Dead, which might explain the latest in TV entertainment: people praying at Chavez during his TV show, En Alo Presidente … rezaron ante Hugo Chavez
Si un presidente está en la mira por su peligrosidad, ese es Hugo Chavez
Chavez entre las FARC y el narcotrafico
Announcement: Memorial Mass for Venezuela's Cardinal Rosalio Castillo Lara in Washington DC
Special thanks to Maggie, Kate and Siggy for their support.
Blogging about the Carnival
A very special Carnival day
A Second Hand Conjecture
Obi's Sister
Earn a Ph.D.d.F.
The end of Venezuela as I know it