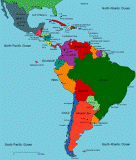 Welcome to the seventh Carnival of Latin America and the Caribbean. If you would like to send me your posts on the region, please email me at faustaw "at" yahoo "dot" com by Sunday night.
The week's financial news is that Latin America Leaders Set to Inaugurate Chavez's Bank of South. Equally as important (and possibly more important), the US Senate passed the free trade agreement with Peru. IBD asks, Peru Is In, Now Where's Colombia?
This week's video:
Mary Anastasia O'Grady discussing what took place on referendum day in Venezuela.
This week's Spanish language website:
Carlos Alberto Montaner's website, which is also available in English.
I had the pleasure of meeting Mr. Montaner and his wife last week at the Globalization and the aRise of the Left in Latin America, and will be posting more on the conference later this week.
ARGENTINA
Episcopal fold loses 1st diocese – in valley
the diocese, which operates out of offices in Fresno, will report to the Most Rev. Gregory James Venables, presiding bishop of the Southern Cone and of Argentina, in his office in Buenos Aires.
BAHAMAS
Why would we want to be American?
BOLIVIA
Trouble in Bolivia
Anti-Chavez Protesters Stone Venezuelan Plane in Bolivia
BRAZIL
Sex, sleaze, and taxes
CHILE
Venezuela 2007 is Chile 1988
CUBA
Update: Catalanist Convergencia party travels to Cuba in support of the Ladies in White, and promptly get rounded up by the police, detained, and are waiting for extradition.
Action Alert Campaign for Cuban Youths.
Dual-language post at Spanish Pundit Cuba celebrates International Human Rights Day by jailing dissidents. Don't miss also today's coverage of BUCL's International Human Rights Day initiative in support of Cuban dissidents: go to Babalu, scroll down and follow the links.
ECUADOR
Correa puts the military in charge of PetroEcuador
Cuba's Correa and Chavez Suffer Embarrassment of Fraud in Caracas
I predict that Correa will slowly start distancing himself from Hugo.
MEXICO
Higher education in Mexico: A doctor takes charge
NICARAGUA
Autocracy begins to rear its ugly head
Kate is doing an excellent job of covering Nicaragua and Latin America – her blog is a must-read.
PERU
Fujimori trial under way in Peru
Peru may become Latin America's next success story.
PUERTO RICO
Coming home
VENEZUELA
Updated: Chavez tried rigging the referendum vote; Attempted Theft
Hugo Chávez tried to overturn the results of Venezuela's recent vote but was rebuffed by the military.
Via Sara, The beginning of the end for Hugo Chavez. This strikes me as overly optimistic.
In Spanish: La verdadera historia de la derrota de Chavez
By far, the most asinine article by a movie star this year: Piano Wire Puppeteers: The Constitution, Media & Dennis Kucinich
Mature socialism and societal decay
Baduel alerta sobre "golpe de Estado" de los chapistas
Baduel volvió a pedir al electorado opositor que, una vez derrotada la propuesta en referendo, ahora debe movilizarse por una Asamblea Nacional Constituyente, porque una vez que "se conquista un objetivo, no es tiempo de desmovilizarse, ni tiempo de echarse a dormir. ¡Es tiempo de consolidar el objetivo!", exclamó.
Una Asamblea Constituyente permitirá, dijo, salir "al paso" a quienes "quieren perpetrar el arrebatón que se intentó" con un supuesto desconocimiento de Chávez al resultado del domingo pasado, en alusión al referendo en el que ganó el "no" a la reforma de Chávez, con una relación de 51 votos a 49.
Venezuela's Lame-Duck Dictator
On democracies, dead and dying
HACER's Venezuelan referendum page.
Una Venezuela nueva espera por nosotros.
More articles at HACER.
HUMOR: [language warning]
Via Miguel, a loose translation with all the bad words you'll ever need in Spanish.

BLOGGING ABOUT THE CARNIVAL
GM's Corner
Obi's Sister
A colombo-americana's perspective