UPDATE
Not secession – federalism, instead.
See below (*)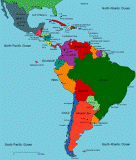 The big news this week in Latin America: The four richest Bolivian regions declared autonomy from the Morales government, on the same day as Evo Morales formally received a new draft Constitution.
(*) Clarifying: It's not secession; it's federalism
I just received an email from Alek Boyd of VCrisis
First off governors of Santa Cruz, Beni, Pando and Tarija have been democratically elected, as Morales. Ergo that rules out accusations about lacking democratic credentials the official propaganda machine is leveling against them.

Second, they are not seeking independence. Contrary to what the MSM is publishing the autonomic statute in first article states:

"Santa Cruz se convierte en Departamento Autónomo, como expresión de la identidad histórica, la vocación democrática y autonómica del pueblo cruceño, y en ejercicio de su derecho a la autonomía departamental, reforzando la unidad de la República de Bolivia, y los lazos de hermandad entre todos los bolivianos".

That is to say they are not proposing secession, what they are proposing is self rule in economic, education, tax and resource management issues.

Some of you may think that such a thing amounts to independence from Bolivia, however the prefectos have been very clear in that respect, their proposal is similar to the current system of autonomic regions in Spain.

Third, the issue of autonomic rule was presented to popular vote through referendum. In 4 out of the 9 departments (Santa cruz, Beni Pando and Tarija) the SI option, that is the one supporting autonomy, won. Ergo, said proposal is as democratic as Morales'-driven national constituent assembly from a strictly legal point of view, for if what Morales needed to rewrite the constitution was the approval of "the people" said approval was granted by "the people" to provincial statutes of self rule in those regions.

Fourth, Morales' constituent proposal has violated procedures, the most striking evidence of it is a) the seat of constituent assembly discussions to get the new charter approved was moved from Sucre to Oruro, so that Morales supporters could get it passed by simple majority [2/3 of votes were never reached], and b) the text approved in Oruro contained originally 408 articles as opposed to the one presented to Morales last Saturday which contains 411 articles. A drafting committee in charge of modifications has introduced 3 new articles which have not been approved
by the constituent assembly, therefore illegal.
Related links in Spanish: Gobierno Departamental de Santa Cruz, and Con los estatutos, prefectos controlan tierras y tributos. From reading this information it's clear that what the prefectos are after is a federal system like the USA's.
Special thanks to Alek for clarifying this question. My apologies for my mistake.
Previous post:

Links listed from most recent to older:
Bolivia set on collision course over autonomy
All the legislation – as well as a separate and especially contentious constitutional provision limiting the size of landholdings – has to be submitted to referendums that are expected to take place early next year.

"I am convinced that we will not retreat a millimetre nor move one step to the side," Ruben Costas, the governor of Santa Cruz, told tens of thousands of jubilant supporters waving the department's green and white flags. Mr Costas warned the central government not to send in troops or police. "This is a warning. Do not dare to invade us or militarise us."

Santa Cruz, Tarija, Beni and Pando departments, which all announced autonomy on Saturday, form a half-moon shape around the solidly pro-government capital and heavily indigenous departments of La Paz, Potosi and Oruro. Two other departments – Cochabamba and Chuquisaca – are unhappy with the new constitution, railroaded through by an emergency session of a constituent assembly eight days ago by pro-government supporters. "The country has taken two different directions," said an editorial in El Deber, a daily newspaper published in Santa Cruz.
The deputies at the Constituent Assembly approved one version but Evo received a different one; VCrisis has the captures. The first version states that the power comes from the people while the second version stresses the preselection of candidates. Gateway Pundit has more.
At play? Natural gas, which Gazprom is eyeing, along with Brazil and Chile.
Ed Morrissey correctly points out
If these districts can secure themselves against the central government, this could get very, very ugly. Natural gas is their chief export and their resource for hard currency. If the breakaway districts can keep it for themselves and safely export it (mainly to Brazil), they can build a significant war chest while leaving Morales to feed the rest of Bolivia's poor in the west. That will prompt Morales to march on the east, perhaps assisted by Chavez in Venezuela, and a civil war will almost certainly erupt — and sooner rather than later.
Publius Pundit, Blue Crab Boulevard are blogging on the story, while Marginal Revolution asks, What does Bolivia have to do to make the front page?
Bolivians Now Hear Ominous Tones in the Calls to Arms
Bolivia tense amid autonomy push
Cardinal Terrazas calls for peace in overcoming crisis in Bolivia
Bolivia Leader Is Mobilizing Armed Forces

——————————————————————-
SPANISH-LANGUAGE WEBSITE OF THE WEEK
Two this week:
Penultimos dias
, and
Red Liberal Hispanoamerica
LATIN AMERICA and CARIBBEAN
The Bank of the South:
Bolivarian finance: The IMF can sleep easy
Caribbean nations, EU reach agreement on access to markets. The Caribbean countries are Jamaica, Barbados, Dominican Republic, Antigua and Barbuda, The Bahamas, Belize, Dominica, Grenada, Guyana, Haiti, St Kitts and Nevis, Saint Lucia, St Vincent and the Grenadines, Trinidad and Tobago and Suriname.
Caribbean Net News is an excellent resource on the islands. Don't miss also HACER's weekly roundup
ARGENTINA
Marital bliss: A different Kirchner is in charge, but many of the policies remain the same
Irish Tourist Ronan Lawlor Missing in Argentina or Chile
ARUBA
OpenSEA adds members, promises smooth saling for 802.1x NAC
BRAZIL
Is Brazil changing its focus from income redistribution to income creation?
CAYMAN ISLANDS
Lesson 4: Not Every Disaster is a Disaster
CHILE
Insulza's Divided Attention
COLOMBIA
Pouty Hugo: "I Will Not Speak to Uribe For As Long As I Live"
FARC FAILS to Kidnap President Uribe's Two Sons
Uribe's anticorruption chief resigns
CUBA
Cuban diplomat seeking asylum in Spain
A Cuban diplomat who allegedly aided a dissident doctor in Mozambique has skipped a flight out of Paris to seek political asylum in Spain, Spanish daily El Mundo reported Sunday.

Lorenzo Menendez said he faces prison for helping the dissident but believes socialist Spanish Prime Minister Jose Luis Rodriguez Zapatero will bow to pressure from Havana to deport him.
Zapatero is a weak leader, indeed.
BEATDOWN IN HAVANA!!… Castro Thugs Bash Democracy Protesters
Huckabee does a flip-flop on Cuba
Huckabee Unaware of Issues Between U.S. and Cuba
Bloggers United for Cuban Liberty continue their campaign.
DOMINICA
One laptop per child project initiated in Dominica
DOMINICAN REPUBLIC
Pirate Captain William Kidd's Ship, the Quedah Merchant, Possibly Found in the Caribbean
ECUADOR
Correa celebrates the Chavez coronation in Argentina: A faustian pact called bolivarianism
GUATEMALA
A post on Guatemala's new and more restrictive adoption law And Even More…
GUYANA
Relations between Venezuela and Guyana remain strained due to the continued incursions of Chavez's military into the other country, the latest of which was
Last November 15, a contingent of 36 armed Venezuelan military personnel, led by a general, forced the crew off of Guyanese-owned dredges and bombed the pontoons.

That was followed by unauthorised overflights by Venezuelan helicopters in Guyana's airspace.
Guyana-Venezuela joint group to be set-up to prevent incursions
MEXICO
The Fantastico Mr. Fox
Lessons for Mexico in Brazil's Boom: In the energy sector, open markets work.
NICARAGUA
Iran making push into Nicaragua
Iran and Nicaragua: A new relationship?
Iran's foothold in Monkey Point, Nicaragua
PERU
Peru Is In, Now Where's Colombia?
Peru: Barrick Gold Corp. Helicopter Crashes because of Engine Failure
Converted Buses to be Taken Off Peru's Highways
PUERTO RICO
Rush's Snakes & Arrows world tour to be extended
VENEZUELA
Venezuela, and Oil and podcast
Organized crime in Venezuela administration
Venezuelan Chavista agents arrested in the US for voting plot
Miami Maletagate indictments: Just the tip of the iceberg?
Chavez lives down to his reputation
Patria, Vuitton o Muerte! Gastaremos!
Chavez vs. The Venezuelan Electorate
HUMOR
Funnimetric's Post details: Fausta's Carnival of Latin America
Chucha Libre (Spanish)
Mundial de patos (Spanish)

—————————————————-
BLOGGING ABOUT THE CARNIVAL:
A colombo-americana's perspective
A Second Hand Conjecture
Babalu
Billy Jones
Sex and the South
Wizbang
====================================================
More Carnival fun at
SheBlogs Carnival
, brought to you by Sex and the South