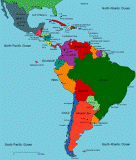 With Hugo in the headlines again, the Carnival goes on.
If you have a chance, please listen to last night's 1/2hr podcast on the Venezuelan referendum.
SPANISH LANGUAGE BLOG OF THE WEEK:
Basta de apartheid en Cuba
POSTS ON LATIN AMERICA IN GENERAL;
How to enjoy traveling abroad
Venezuela: A Political Storm Rages Over the Andes
MS-13 Creeps Into Canada: Documentary videos at LiveLeak.
Hugo and Raul, Chew on This … OohRah!
ARGENTINA
Really intact Dinosaur found
ARUBA:
Brothers in Holloway case walk away from jails — again
COLOMBIA
Force, Not Talk
Proof of FARC captives' survival
Is S. America a terrorist incubator?
CUBA

"His family in Puerto Rico had to send him the medicine"
Bloggers United for Cuban Liberty
Media: Cuba is a Demcracy, Right?
ECUADOR
Ecuador's Correa's communist freak show in Montecristi
JAMAICA
This is not news
MARTINIQUE:
Tremor in Martinique
NICARAGUA
Nica news for Nov 27
PANAMA
Thinking about Santa and Panama
PUERTO RICO
Beauty queen 'wasn't pepper sprayed'
VENEZUELA:
The Limits of 21st-Century Socialism
Via Human Rights Foundation,
Caracas Nine:

HRF Seeks Protection for Leader of Student Movement in Venezuela; Yon Goicoechea is "Caracas Nine" Dissident #2
Here are a few links to recent posts on Venezuela:
On Election Eve, Chavez Ally Turns Against Him
US Senator Carl Levin Rejects Chavez Allegations of Interference
Venezuela Loses Its Mind – And Its Freedom!
Chavez cuts ties to Columbia, Threatens to expel US Diplomat
The Left Begins Venezuelan Black (DGI/DISIP-driven) Op
Chavez's Ex Apologizes for His Government
Is Chavez Hurt by His Incessant Insults?
Hugo Chavez: The Musharaff of South America
Hugo Chavez's Most Dangerous Enemy? It's Chavez Himself
Hugo Chavez and his Allies are State Sponsors of Terror
Al-Jazeera's Mariana Sanchez reporting from Venezuela finds discontent among Chavez's base:

BLOGGING ON THE CARNIVAL:
A colombo-americana's perspective
ECrisis
Prior posts and roundups from the last 7 days:
Hugo's meltdown, at IBD
Wednesday: Countdown to Tyranny
Thursday: Today's Countdown to Tyranny
The "Blame the CIA Game" is back!
Friday: Countdown to Tyranny: Last-minute Chavista Propaganda Offensive
Countdown to Tyranny: The day before the vote
Election day roundup