Americans had marched to the defense of Europe in 1917. They marched again in 1942. The necessity was regrettable, but the urgency was obvious. They fell by the thousands, on the beaches of France and Italy, in the fields of Belgium and Germany, and on the waters and islands of the Pacific.

Not all went willingly, but they went. They fought, suffered, and died for the freedom of others. At the conclusion of their efforts, the survivors went home without trophies or booty. A souvenir or two, but no loot. No other nation can say the same.

We call them heroes, and the word is apt. But it doesn't cover the whole of the American martial experience. Many a hero has fought only in defense of that which is dear to him personally. The American soldier, more often than not, has gone to war in defense of that which is dear to others he never knew.
Pres. Bush's radio speech was on Veteran's Day and the anniversary of the Marines. Via Larwyn, Don Surber posts about President Bush's speech:
Democratic response: No VA budget on Veterans Day
Don't miss Gerard's beautiful tribute.

Too bad Hillary's too busy planting.

—————————————————————
Christian Aid, an agency of British and Irish churches says that
the rich caused the problem and must therefore pay the price of fixing the global climate change crisis
.
I say they start with the rich Chinese.

—————————————————————
This week's WSJ "Five Best", on sensational murder trials:
—————————————————————
This week's shoes:
Cole Haan Nike Air/G series *Air Deirdre Pump in Black Suede
Fabulous in high heels.
Via The Manolo, Ugly Shoes: A Brief History

—————————————————————
It's time for the
Carnival of the Insanities
!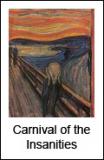 —————————————————————
Via Maria,
Zipskinny
—————————————————————
Via
Gates of Vienna