UPDATE
scroll down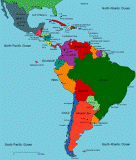 As usual, Chavez manages to suck off all the air when it comes to Latin American news.
The "Por que no te callas?" fallout continues. While the story went mostly ignored here in the USA, it was the story of the week in Latin America and parts of the USA: there's even a ringtone:
The king's on the phone, and he says: 'shut up!'
To give an idea of how much attention the king's five-word outburst has received, consider the numbers on YouTube.com. Three YouTube postings with the exchange have been viewed almost 800,000 times.
By comparison, the first part of the YouTube/CNN Democratic debate received about 73,000 hits, according to YouTube.
Happy to oblige, here's the You Tube explaining the event:

But I prefer the Juan Carlos as Leonidas:

Via GM Roper, the cartoon
Distraction tactics in Venezuela
The Hilarity: 'Tis Overwhelming
Plenty of You Tube to go around.
First it was King Juan Carlos; Now it's King Abdullah's turn. Is this the beginning of a trend? More Governments seem ready to join the King of Spain in telling Chavez to shut up.
Spanish-language link of the week:
Via Kate, El comandante y el Rey: La salida de Juan Carlos I, tras las interrupciones e insultos de Hugo Chavez, tuvo la virtud de rasgar el velo de hipocresía que rodea las Cumbres Iberoamericanas
Also don't forget to visit The Wall Street Journal in Spanish.
In other Venezuelan news,
The referendum on the Constitution is scheduled for December 3. Here's what Chavez wants to do and what will really happen
Chavez's radical push spurs military dissent
Chavez's proposal to change the name of the National Guard to that of Territorial Guard, and reassign its members to other security forces, triggered a wave of discontent in mid-August. Corporals in the 40,000-strong Guard complained that the change amounted to the Guard being eliminated — and Chávez was forced to backtrack.
Will Chavez pull the trigger?
Venezuelans may give their president the power to restrict oil production — and cause a global recession.
Hugo Chavez: Students forced masked soldiers to shoot them.
Students Emerge as a Leading Force Against Chavez
Hugo Chavez Certifiably Insane
Venezuela scrambles for food despite oil boom
Via Siggy, who calls it "journalistic fraud and deceit re: South America", If Hugo Chavez is a dictator, then so are Brown and Sarkozy
Sean Penn: Hugo Chavez Is 'Much More Positive' for Venezuela Than Negative
Among the inbound luggage there might be the odd flying carpet bought by the more outlandish visitor to Tehran's Grand Bazaar. But Venezuela's main international airport is buzzing with rumors that the "ghost plane" comes and goes laden with artifacts that would make a TSA official throw a fit: automatic weapons, electronic gadgets, and suspect lead crates.
—————————————————
UPDATE
:
Jackson Diehl of the Washington Post
is exactly right (emphasis added):
For the past week, the press of the Spanish-speaking world has been abuzz about a verbal slapdown of Venezuelan President Hugo Chávez by King Juan Carlos of Spain. Incensed by Chavez's ceaseless insults and interruptions during an Ibero-American summit meeting in Chile, the normally temperate Juan Carlos turned to Latin America's self-styled "Bolivarian" revolutionary and blurted: "Why don't you shut up?"

The story might have lasted a day, while everyone chuckled over something that, as one Spanish newspaper put it, "should have been said a long time ago." That it has lasted a week is the work of Chavez. He called a news conference last Monday in which he recounted the history of Spanish colonialism and compared himself to a persecuted Jesus Christ. He held another news conference Wednesday to announce that he was reviewing all ties between Venezuela and Spain. He demanded a royal apology. He even coined his own phrase: "Mr. King, I will not shut up."

Crude and clownish, si, but also disturbingly effective. Borrowing the tried-and-true tactics of his mentor Fidel Castro, Chavez has found another way to energize his political base: by portraying himself as at war with foreign colonialists and imperialists. Even better, he has distracted the attention of the international press — or at least the fraction of it that bothers to cover Venezuela — from the real story in his country at a critical moment.

In 13 days, abetted by intimidation and overt violence that has included the gunning down of student protesters, Chavez will become the presumptive president-for-life of a new autocracy, created by a massive revision of his own constitution. Venezuela will join Cuba as one of two formally "socialist" nations in the Western hemisphere. This "revolution" will be ratified by a Dec. 2 referendum that Chavez fully expects to win despite multiple polls showing that only about a third of Venezuelans support it. Many people will abstain from voting rather than risk the retaliation of a regime that has systematically persecuted those who turned out against Chavez in the past.
…
If you're thinking you haven't heard much about this transformation in a major oil-producing country two hours by air from Miami, you're right. U.S. media and human rights groups have basically ignored Chavez's latest power grab. Human Rights Watch, which has been conducting a campaign about what it says is the "human rights crisis" in neighboring, democratic Colombia in close cooperation with congressional Democrats, has issued no statement on the Venezuelan violence — including the shooting of the students by government-backed paramilitaries on Nov. 7 — and objected to only one of the 69 new constitutional articles.

The Bush administration seems to have abandoned any effort to influence events in Caracas, hamstrung by Chavez's use of "the empire" as a foil. Worst of all, Latin America's own democratic leaders, who rallied in the 1990s against a less-ambitious attempt by right-wing Peruvian President Alberto Fujimori to install an autocracy, have largely been silent. Unlike Chavez, Fujimori didn't have petrodollars with which to subsidize his neighbors' fuel or buy their debt bonds; Chavez has spent billions on both. The summit of Spanish-speaking countries would have been entirely harmonious had not Chavez himself deliberately provoked Juan Carlos. The king missed his cue; rather than addressing Chavez, he should have asked the assembled heads of state: "Why don't you speak up?"
Bravo!

—————————————————
ELSWHERE IN LATIN AMERICA
:
Posts on SOUTH AMERICA in general
Brrrr… South America Has Coldest Winter in 90 Years
The Latinobarometro Poll: A warning for reformers. Latin Americans expect more from the state and less from the market
ARGENTINA, BRAZIL, PARAGUAY (Tri-border area)
In Paraguay, Piracy Bleeds U.S. Profits, Aids Terrorists
BOLIVIA
Hugo's having trouble exporting his Bolivarian Revolution,
Revolution postponed: A popular president deadlocked by a determined opposition
U.S. to Bolivians: Stop attacking ambassador
CHILE
After the Caudillo
7.7 Quake Shakes Northern Chile
COLOMBIA
Colombia's Uribe Seen as Solidifying Power
Opponents Say Widely Popular President Is Toughening Stance Against Critics
CUBA
Cuban farmers reject Venezuela-Cuba confederation
Reality in Cuba: "El Concierto", "The Concert"
A roundup of Anti-Fidel "International" Blogs
DOMINICAN REPUBLIC:
Dominican Government Calls for Censorship of HRF Film on Human Trafficking
HONDURAS:
The latest phone company wiretapping scandal.
Ancient Americans had chocolate alcohol
ECUADOR:
CHAVEZ AND IRAN BUY PAL CORREA: CORREA EASILY BOUGHT TO STAND UNITED FOR NUCLEAR ANDES
MEXICO
The U.S. and Mexico: Taking the "Merida Initiative" Against Narco-Terror
GUERRILLAS IN THE MIST:
In a Modernizing Mexico, Blasts Reveal Shadowy Side
You must be a legal resident to get a driver's license in Mexico
NICARAGUA
A Colombo-americana's perspective has a huge roundup links on the subject of Venezuela's influence in Nicaragua
PANAMA
Kucinich Protests Army Training School
PERU
The Bad Girl by Mario Vargas Llosa
4,000-Year-Old Temple, Mural Found in Peru
Education and Peru: The Work of Tapurisunchis
PUERTO RICO
Adios: Pharma Retreats From Puerto Rico
Pet massacres carried out in Puerto Rico
URUGUAY
Another day, another country: Uruguay
Special thanks to Eneas Biglione of HACER
Would you like to send a link to next week's Carnival on Monday November 19? Email me your links to: faustaw "at" yahoo "dot" com.
BLOGGING about the Carnival:
A Colombo-Americana's Perspective
Cubanology
Gateway Pundit
Obi's Sister