We're twinseparable! Happy with his brother, the boy who refused to die, named after the Archangel Gabriel, whose name means "Fortitudo Dei", The Strength of God.

————————————————————–
The Petraeus Curve: Serious success in Iraq is not being recognised as it should be
Via Captain's Quarters, Thousands Return to Safer Iraqi Capital
he big story [on Iraq] that's not getting across in the mainstream media is that Iraqis are cooperating.
————————————————————–
Over at the Volokh Conspiracy, David Kopel writes about
Fred Thompson vs. The UN's anti-self-defense campaign
Today, the Knoxville News reports that it was UN Dispatch that got the facts wrong. The Special Rapporteur's Report which Thompson criticized (and which was adopted and endorsed by a submcommission of the UN Human Rights Council) quite explicitly says that personal self-defense is not a human right.
Just two days ago Haiti expelled 100 Srilankan UN peacekeepers who are acussed of sex abuse
What's going to happen to the rapists? Probably not much:
A 2005 UN report suggested a central disciplining policy but member nations could not agree.
And from the "No sh*t, Sherlock" department,
In July, the UN Special Rapporteur on Torture, Manfred Nowak, said the standards for selecting peacekeepers were too low.
————————————————————–
Via
Sweetness and Light
:
————————————————————–
Dr Sanity has the Carnival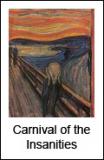 ————————————————————–
This week's WSJ's
Five Best
, on exploration:
They also listed "In Xanadu" by William Dalrymple and "White Gold" by Giles Milton, but Amazon is having problems with their links. My apologies for the inconvenience.
————————————————————–
This week's shoes:
I wonder how these would look with skirts.
————————————————————–
Half-right quiz (because I'm rarely depressed and never hopeless or bored), via
Raven
,
You Are a Ferris Wheel

Deep down, you are a fun, whimsical, and easygoing person.
You often enjoy life for what it is, and the littlest changes in course can be quite thrilling.
In relationships, people tend to feel what you feel. It can be liberating at first…
But after a while, the people closest to you end up feeling a little trapped.

Your life has perfectly normal cycles of ups and downs.
However, you can't help but sometimes feel that you're missing out on the most exciting aspects of life.
You only are happy when you're experiencing the highest of highs.
Your low points just make you feel depressed, restless, and bored.

At your best, you feel on top of the world with a great sense of perspective.
You believe that anything is possible, and that you are happily looking down on everyone else.
At your worst, you feel like your life is going in circles. You often feel like you're not going anywhere.
This is sometimes psychologically disorienting. And sometimes it brings on a sense of hopelessness.